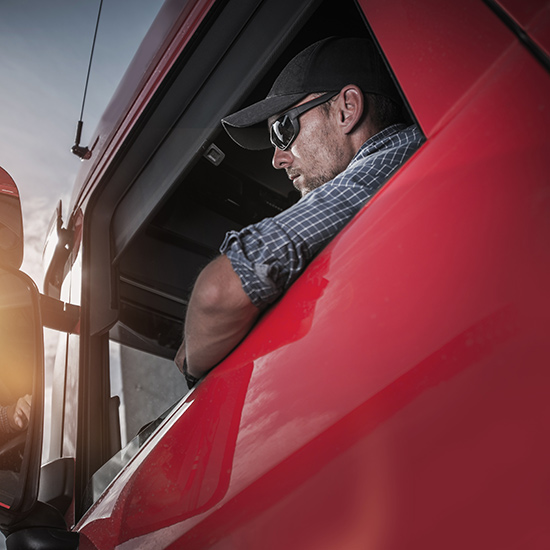 We're just about halfway through one of the busiest years the trucking industry has seen in over a decade. With the busiest months still ahead of us, and freight volumes continuing to rise, there doesn't seem to be an end in sight.
There is a lot of information out there on the capacity crunch and how trucking companies can survive but they all focus on the freight and the truck as a piece of equipment. There is a different story here, one of the flesh and blood driver that is really at the heart of it all. This job isn't easy and this year, with the introduction of ELD's and the capacity crunch, the demands being placed on drivers is more intense.
Now more than ever it is important for drivers to pace themselves to ensure that you can keep going and ride out the capacity crunch for as long as it lasts.
#1 Communicate with dispatch
The dispatch office has a job to do and that is to keep the trucks rolling. If you're working for a busy trucking company, you've probably noticed that the phone is ringing halfway through your restart and your next run is ready before you've even adjusted to being home. This is all well and good a lot of the time, but sometimes you just really need the downtime to rest. Don't be afraid to say no or, better yet, communicate with your dispatch team early to let them know you really need a few extra days in to get a good break.
#2 Take your vacation time
So many drivers are guilty of never taking their vacation time because we all know that if the truck isn't moving, we aren't making money. Vacation time is important to stop and recharge the old battery. Two weeks away from the truck will do you a world of good and help you avoid burnout.
#3 Take your family on a ride along
The truck driver lifestyle is everything but traditional and spending time with family can be done on the road. Many trucking companies have a ride along program so that your spouse and children can tag along on a run with you. With summer vacation coming up, this may be a great way to spend some extra time with your kids. It may not be home time, but it will be great quality time with your family.
#4 Stay connected through social media
Facebook and other social media sites offer an easy, quick way to stay connected with everyone at once. In less than a minute you can let numerous people know how you are doing, what you are doing, where you are, or simply just give a shout out to say hello to everyone at home. Almost as easily you can find out what everyone back home is doing, participate in discussions with family, look at and share images.
#5 Make the most of your Off-Duty time and get away from work
It can be hard to separate work time from downtime when you're cooped up in your workspace for 70 hours a week. Sometimes you just need to get out of the truck and away from the truck stops. Grab a cab and check out the local sites, go to a movie or a game, whatever gets you away from work for a little while.
#6 Get a hobby that has nothing to do with the truck but can be done when you're in it
Pursuing a hobby that has little or nothing to do with what you spend most of your waking hours doing can give you a satisfying break from the daily grind of your job. Reading, playing an instrument, painting, drawing, knitting and so many other hobbies are easy to learn and fit into your trucking lifestyle.
#7 Make the most of your hometime
When we are home there are a different set of responsibilities to worry about, just make sure that you are getting in some rest and relaxation too. Be mindful of ways that you can alleviate some of the stress your spouse is dealing with – after all, being away from home more creates extra work for them too. Work together as a team and communicate your needs. Don't let the chores and housework take over, time spent together will do more to reduce stress than washing the dishes or mowing the lawn.