Join Our Growing Fleet
Owner-operators have been our partners in success for over 30 years. We have new opportunities for owner-operators to join our growing fleet and earn above industry average revenue to take your business to the next level.
Experience at Work
We pride ourselves on our commitment to people and developing long-term relationships with our owner-operators, drivers, and customers. Our experienced team keeps you moving while you are on the road with consistent freight from new and long-time customers. Talk to John, our Safety Manager and Recruiter, about new regular lanes for teams and super-singles to Texas, Louisiana, Florida, Oregon, and California.
Make the Move Hassle-Free
Making the move for a better career should be hassle-free. There are no upfront costs to signing on with us. Plus, you'll get a $3000 sign-on bonus! There's no barrier to earning more!
Who We are Looking For
A big part of our company culture is a positive attitude. Because we have regular long-term clients, professionalism is a necessity in every part of our company including drivers, dispatch, and management. If you are an Owner Operator, who is committed to Safety and Compliance, quality customer service, and have a strong work ethic – we may be a good fit for each other.
Len Dubois Trucking Offers Owner Operators
$3000 sign-on bonus
Above-average industry revenue.
Percentage or per mile contracts.
Paid every week on the 7th, 15th, 22nd, and last day of the month.
80% U.S. miles.
Company-paid decal package.
Company-paid tolls & scales.
Toll cards & transponders for tolls and ferries.
Deductible buy down available.
Health, Dental, and Life insurance coverage are subsidized by the company.
Satellite communication with dispatch.
Regular Winnipeg outbound clients and freight.
We are a Winnipeg, Manitoba-based trucking company looking for Owner Operators to expand our growing fleet. We have regular outbound freight to Canada and the United States.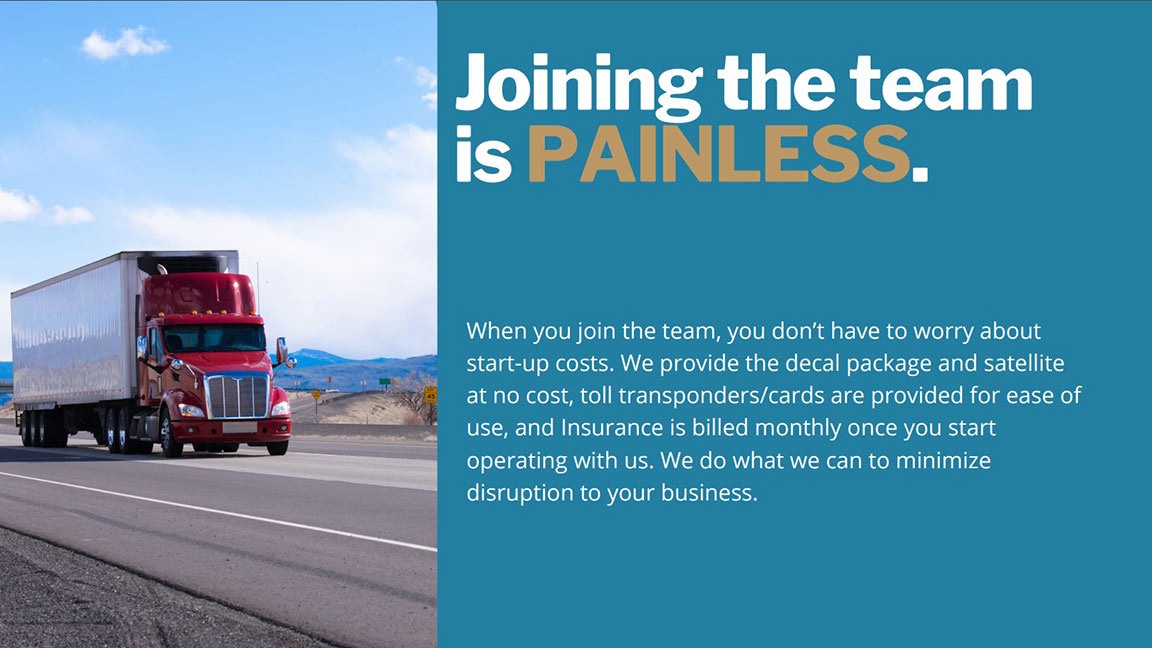 Contact Our Driver Recruiter
Do you have a question about working with Len Dubois Trucking? Contact our Driver Recruiter, he'll be more than happy to answer any of your questions. Please fill out the form below or feel free to contact John directly at 1-888-590-2760 ext. 309.
Connect with Us
Testimonials
I have been operating a single truck business since 1999. In July of 2003, after looking at all the companies in Winnipeg, I signed on with Jason. Next to buying a KW, moving here was one of the best business decisions I've made.

Everyone here, from the shop right through to the top corner office, work with the drivers to make their job a little bit easier on the road.

I don't feel that I "work" for Len Dubois Trucking. I am "partnered" with great people."
Having worked for them for almost 2 years and now being gone onto new things for about 6 months now, I can honestly say that for a long haul job there isn't another place I'd rather be. Great company, great equipment, they take pride in their work and in delivering freight safely and on time. They also care more about their drivers than their bottom line.
You are family here. You are part of the team. Dispatch works with you; they'll do anything and everything to make sure you get the miles you need each month.