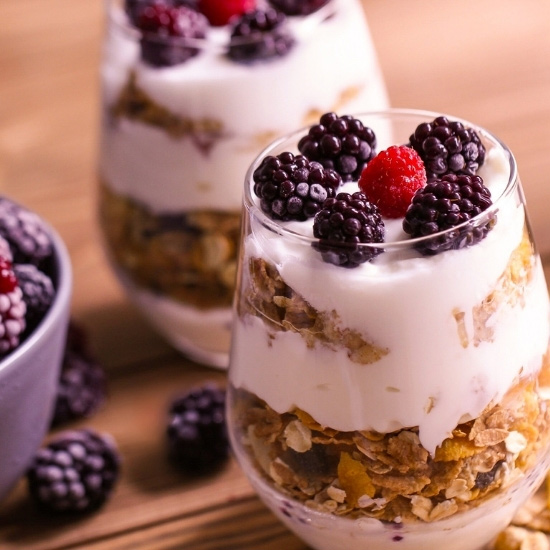 Snacking is actually good for you. Depending on what you're snacking on, that is. Snacking can help you get important nutrients, keep you energized and satisfy your hunger between meals. Many of the items we'll be talking about today can be quick buys at a grocery store while out on the road, or you can bake up some healthy yet delicious goodies at home and bring them with you.
To get the best results in a safe and healthy manner, please contact your doctor or a nutritionist for more information on dietary changes.
Veggies
We'll start with the most obvious snack option. Raw vegetables are good for you and, let's be honest, they do taste good! Whether it's carrots, celery, cauliflower, broccoli, cucumber, or any of your favourite veggies, adding them to your snack intake is a smart idea.
If you can't stand eating plain vegetables, try out hummus as a dip. This is a great source of protein and fiber, and you can find it in almost any grocery store.
Fruit
An apple a day keeps the doctor away! Okay, maybe that's just an old wives' tale, but adding SOME (italic) fresh or dry fruit to your snack pack is a good idea.
Just keep in mind that too much fruit, fresh or dry, isn't best either as fruit has lots of sugar!
Hard Boiled Eggs
Buy good quality eggs, boil them (peel them after cooking), pack them up and refrigerate them while out on the road.
Greek Yogurt
Greek yogurt is high in protein. In a perfect world, you would enjoy this snack just as it is, but you can add berries into the mix. Just keep in mind your intake of fruit.
Nuts and Seeds
Are you feeling a little . . . nutty. Nuts and seeds are great, although you shouldn't overindulge with them. Choose unsalted or low salt nuts; even roasted nuts can be good for you. If you are purchasing roasted nuts, make sure you are not buying ones that are seasoned with salt or sugar-coated. You can also roast the nuts yourself, which is the best option if you are including roasted nuts in your diet.
Buy raw nuts and place them in the oven at 284°F (140°C) for roughly 15 minutes. The nuts should come out with a lightly roasted colour.
Pumpkin seeds and sunflower seeds are also tasty goodies that are actually good for you. You can even pair nuts, seeds, and dried fruits for a trail mix!
Like fruit, it is important not to overindulge with nuts. Nuts are nutritious but high in fats, so a little goes a long way.
Jerky
Who doesn't love jerky? This classic road snack can be a decent snack if you buy jerky that doesn't have nitrates and other yucky junk.
---
So there you have it, some great snacks to choose from instead of reaching for a bag of chips or a chocolate bar.