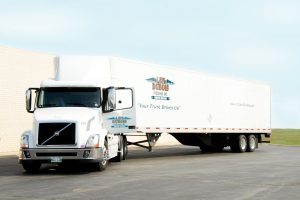 The annual CVSA Roadcheck safety blitz is a 72 hour training and awareness campaign, but safety and compliance is a 8,760 hour way of life for truck drivers. Truck driver's are expected to drive safe and compliant 365 days of the year and are expected to have zero violations.
You are a Professional Truck Driver
As a professional truck driver you are expected to be safe and compliant at all times. Every violation, a warning or a ticket, is a big deal because every violation is avoidable. With proper trip planning, attention to detail, record keeping and vehicle inspections you can be assured that you are traveling down the road safely. The goal is to be perfect. The expectation is no violations – at all.
Safety Comes First
Len Dubois Trucking has always put a priority on our trucker's safety and the safety of other motorists. We provide our drivers with the tools, training, equipment and resources to get the job done safely.
Ultimately it is the driver's responsibility to use the tools we provide and abide by the safety and compliance regulations.
The Len Dubois Trucking blog offers many helpful articles on safety and compliance regulations. Here are just a few:
It is important to know that while drivers may sometimes get off with a warning, points are still deducted from the company's safety rating and the violation is still documented on your driver record. You may think that this isn't a big deal because you, the driver, aren't responsible to pay any fines for your actions, when in reality it is a big deal and it involves more than you.
Scales, in both Canada and the United States, will be increasing the number of inspections carried out by 50% this year. This will not only include an increase in truck inspections, but driver log book inspections and drug testing done at the scales.
Most log book violations are due to not paying attention to details. No matter how busy you are you're expected to keep your log book in good order. Follow these tips and save yourself time and very possibly money.
Proper Pre Trip Inspections
You need to inspect your truck before each trip and the beginning of each day while on your trip. Malfunctioning equipment is a safety issue and can make you the target of costly tickets.
Finding problems before you start your trip or when you're safely parked during your trip can save costly roadside repairs.
Pre-Trip Inspection: What to Look at Inside the Cab
Pre-Trip Inspection: What to look at Under the Hood
Pre-Trip Inspection: What to look at on the Tractor and Trailer
Proper post trips are necessary to prevent costly delays for other drivers. Not only can this delay disrupt delivery times but after hours repair calls come with an inflated price tag. Delays and inflated repair costs add huge dollars to operating costs.