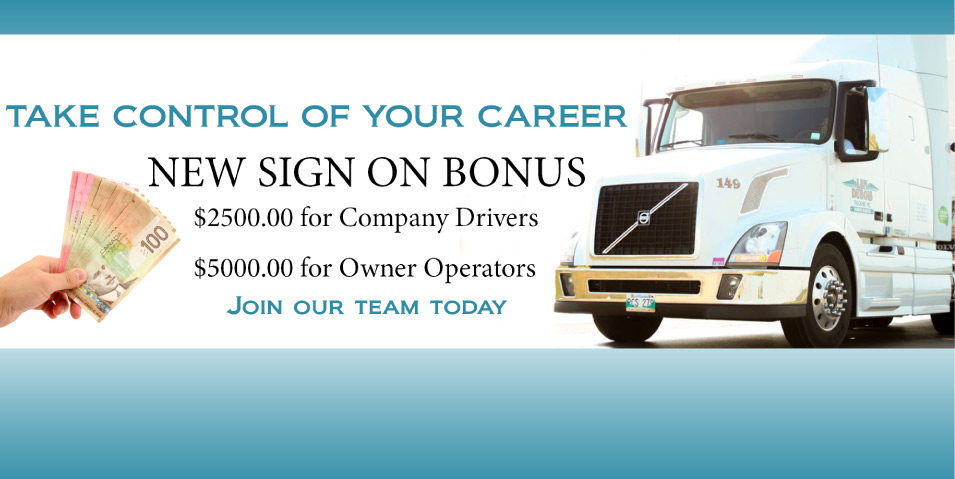 Len Dubois Trucking, located in Winnipeg Manitoba, is a medium sized, family friendly trucking company. We are expanding our fleet and are currently looking for professional company truck drivers, owner operators and super single teams to join the fleet.
Len Dubois Trucking Invests in Our Drivers with New Sign On Bonuses for Owner Operators and Company Drivers
Starting out in a new career, or even with a new trucking company, can be difficult. At Len Dubois Trucking we believe that investing in our drivers is a key component to everyone's success. That's why we've introduced a $2500.00 signing bonus for new company drivers and a $5000.00 signing bonus for new Owner Operators.
Take Control of Your Career and Maximize Your Earnings with Len Dubois Trucking
Len Dubois Trucking will help ensure that your earnings are maximized. Our dispatch team works with you as an individual to make sure that your earning potential is met, while still allowing you to maintain a happy home life. Len Dubois Trucking also pays for tolls, ferries, scales, and other job related over the road expenses so you don't have to pay for them out of your own pocket.
Owner Operators get to take advantage of our money saving fuel plan, low shop rates, deductible buy down, and modern well-maintained trailers equipped with fuel saving wind deflectors.
New to the Industry? Len Dubois Trucking Provides the Tools for Your Success
The Len Dubois Trucking Mentorship and Training Program gives you the confidence you need to hit the road on your own when you're fresh out of driving school. This six week training program with our driver trainer extends you're training time with real on the road training and a dedicated lane so you can become familiar with life on the road. Len Dubois Trucking gives you the tools you need to succeed.
Len Dubois is Hiring Professional Truck Drivers
If you are a professional truck driver, who is committed to Safety and Compliance, quality customer service and strong work ethics you may be just the driver we are looking for.
Successful candidates will have a valid Class One Driver's License, will be able to travel to the U.S. and will be required to pass a Len Dubois Trucking road test. Candidates should also be able to provide a clean driver's abstract and an up-to-date criminal record check.
If you are interested in learning more about a career with Len Dubois Trucking please feel free send us your information, or contact John directly at 1-888-590-2760 ext. 309