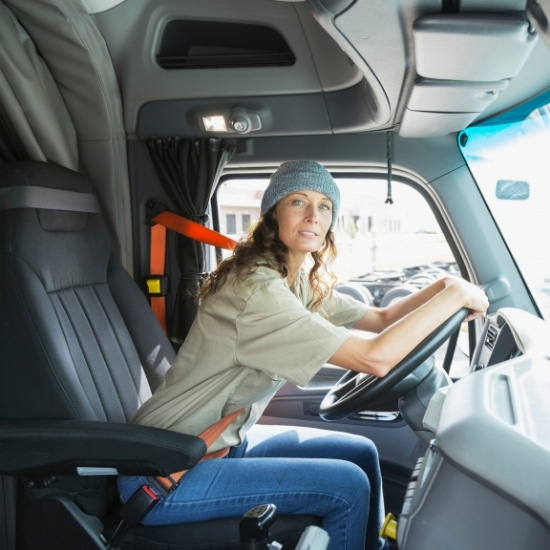 There's a lot to keep in mind when entering any new career. And making a life-changing decision should never be taken lightly – especially when it comes to the trucking industry.
Many people think that driving a big rig will be easy; after all, it's just driving, right?  Well, if you are reading this blog and happen to be in that line of thought process, you would be wrong. When you become part of a fleet, it's more than driving. You'll be dealing with tight time schedules, practicing consumer service, and loading and unloading cargo, just to name a few things.
Trucking requires many skills beyond simply driving the truck. Drivers must be responsible, detail-oriented, have good communication skills, the ability to organize; be honest and friendly, independent and mentally tough. Truck drivers with these skills can, and do, find great career opportunities in this industry.
Becoming a driver isn't for the faint of heart; it can be stressful, aggravating, lonely, and challenging. But it's not all doom and gloom. For the right man or woman, the trucking industry can be fulfilling, rewarding, fun, and the best job for them. The perks of being out on the road really comes down to personality and work ethic. Here are some things to keep in mind.
Skilled Profession with Good Pay
Commercial truck drivers are skilled professionals. They are highly trained and work with advanced equipment. Commercial trucking is an expansive industry, which means there's a solid growth rate.
It Keeps you on Your Toes
No, you will not have to practice ballet dancing, but you'll quickly discover while being out on the road that no two days are the same. You'll constantly be interacting with new people from all walks of life. You'll find a new day brings new situations, which can be challenging, but that can also be a big perk for some.
Operating a big rig itself is physically demanding, and it does call for a wealth of skill – which can add variety to your day. Plus, truckers must maintain excellent driving records, keep specific types of documentation up-to-date and ensure their rig meets all safety and operating requirements. If these aspects are not adhered to, it can greatly affect one's ability to earn a living.
Also, today the truck driver has to understand computer technology, as so much of the business is connected to the Internet. This often requires additional training, which can be ongoing due to the fact that technology changes and develops all the time.
The Love of the Open Road
If you love the road, its challenges, and enjoy working in a profession that is constantly changing and offering new opportunities, then commercial trucking could be the perfect career for you. To be successful, drivers must be disciplined, intelligent and dedicated to hard work.
So is it Right for you?
Everyone is different, and trucking does have a lot of perks, but with it, challenges. If you are looking for a rewarding career where you can be independent, gain new skills and experiences, and be involved with a secure, high-paying job, you might just have what it takes.
Earn a Good Living with Len Dubois
We are able to ensure good miles and home time with regular Winnipeg-based clients, regular lanes and long-term clients. Our experienced team of dispatchers works hard to ensure that your time off and resets are taken at home, not on the road. For drivers, this equals above-average pay and the ability to enjoy a life outside of the truck.
Ask John About the $1000 Sign-On Bonus for Company Drivers and $2000 Sign-On Bonus for Owner Operator's
Must have 2 years OTR experience
Must be able to cross the U.S border
80% U.S miles
Must have a positive attitude about safety & compliance
Let's have a conversation and see if we're a good fit for you! Call John, Safety Manager/Driver Recruiter 1-888-590-2760 Ext 309 today.
If you'd prefer, John can contact you. Fill out the form below