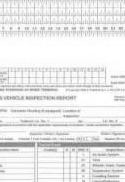 Log book violations are costly and avoidable. If you fill out your log book incorrectly, or if it's incomplete, you could be fined or warned. Even warnings go on a company's safety profile. When you're inspected you're expected to have no violations. When you pass any inspection without any problems it improves the company's safety rating.
Most log book violations are due to not paying attention to details. No matter how busy you are you're expected to keep your log book in good order. Follow these tips and save yourself time and very possibly money.
Keep your log book current – Make sure to update your log book with every change of duty. It's the law.
Keep your log book accurate – Inspectors can see when you crossed the border and company fuel cards transactions are time stamped. An audit will catch discrepancies. Fines for falsifying your log book can be steep and you can be put Out of Service. Being put OOS is a significant hit to your company's safety rating.
Do your recaps – Do the math and complete your 7 or 8 day recaps. One of the first things seen during an inspection is your recap. Taking time to fill out your recap is an indication to an inspector that your log book is in order.
Keep your log book neat & legible – Why keep it if you can't read it. It makes it easier on everyone if your log book is neat and tidy.
Fill out all the fields on you log & inspection report – Don't omit necessary information. A good rule of thumb is to fill out all the info on your log.
Remember that you're expected to be in compliance at all times. If your up against your hours and cannot legally make an appointment on time – contact dispatch.
If our drivers have any questions about the HOS or need clarification on about their logs John is available to assist them.
Len Dubois Trucking is a family-run transportation and trucking company in Winnipeg, Manitoba. We are looking for quality Owner/Operators and company drivers. Join our team today.