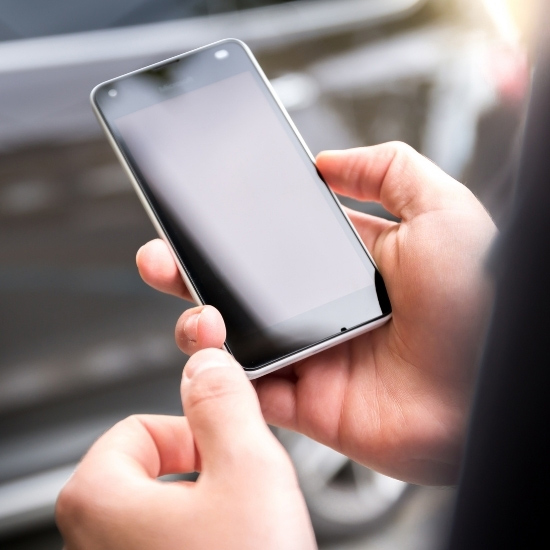 The topic of health in the trucking industry is always a hot one. Whether it be mental or physical, truckers' health is important, but it certainly goes through the wringer. Fast food and truck stop meals (or skipping meals altogether), sitting for long periods of time with little or no exercise at all, not getting the full, restful sleep you deserve; the list of the physical toll that truckers face goes on and on.
On the other side of the spectrum with mental health, truckers deal with stress day in and day out, loneliness paired with separation from home, friends, and family, and the high amount of stress.
But that doesn't mean that it has to be all bad. With a few changes to your lifestyle, putting in the effort, and some help from apps, you can live a healthier and happier lifestyle out on the road.
Fitness/Nutrition Apps
Whether you're looking to maintain your physique or trying to get back in tiptop shape, these apps, designed specifically for truckers, can be a major asset.
Iron Trucker
The Iron Truck is a neat app for truckers that features exercises using the trailer. It was developed by a trucker for truckers and can be done no matter where you are! By using this app, you can find perfect exercises to incorporate into your life and also track what you eat with the Food Journal.
During an individual's downtime, one can simply pull from the deck and implement a variety of exercises. These exercises engage and stimulate the core, upper and lower body, as well as calorie-burning cardio. The app will provide a sustainable health and wellness routine when fused with proper dieting.
The Trucking Fitness Company
If you are an individual driver or a trucking company looking to improve your fleet's health, The Trucking Fitness Company can help you. Their focus is providing truckers easy and short exercises and helping you with healthy, nutritional habits that won't flip your whole diet upside down.
So, how does it work? Start by subscribing and creating an account to gain access to their app – they offer monthly or yearly payment options and are $25.00 a month (making it $300.000 a year). Step two, fill out the intro questionnaire that gives them information on where you should start with your health journey. Step three, get movin'! Step three is when you take action and work with their programs – which are specifically designed no matter what shape you're in.
With the subscription, you gain access to:
Access to personalized programs designed for truckers to do in or just outside of their truck while on the road.
Daily 5-minute Truck Stop workouts to help you get some exercise on those days that you might not have time for the full workout.
Video-guided workouts through an app on your phone.
A free resistance band, which is all the equipment you'll need for this program.
Restaurant Guides/Nutritional Guidance for Truck Drivers to help you eat healthier on the road.
Accountability in the form of daily messages through the app and 24/7 access to message a coach.
The TFC Community. 24/7 access to modern-day CB Radio voice channels and a community of truck drivers ready to help each other.
If these apps don't meet your fitness needs, you can check out some of our past blogs for more workout ideas.
5 ways to Exercise While on the Road
What are Easy Trucker Exercises?
Check out these Great Trucker Workout/Stretching Videos
Apps to Help and Learn About Your Sleep
Ah, sleep. Sometimes it's one of those things in life that you want (and need) so bad but remains out of reach. With these helpful apps, you can get that extra help you need to fall into blissful REM rest and learn how you sleep.
Calm
The Calm app is more than just about sleep; but their resources to help you get a better sleep can't be ignored. Overall, Calm is about making its users happier and healthier. They offer a variety of services like:
Meditate – help you learn the life-changing skill of meditation.
Sleep – get more restful sleep and wake up feeling refreshed.
Music – exclusive music to help you focus, relax, and sleep.
Body – video lessons on mindful movement and gentle stretching (which can be done just outside of your truck!)
Masterclasses – audio programs taught by world-renowned mindfulness experts.
Scenes – nature scenes and sounds to enjoy while relaxing, sleeping, working, or studying.
With tranquil sounds, music, and effects, you'll find your mind peacefully drift off to sleep. The most popular feature by far is the Sleep Stories, which feature bedtime stories read by soothing voices, some of which being celebs like Mathew McConaughey!
Some of the app's features are available for free. For full access, it is $70.00 a year.
Sleep Cycle
Sleep Cycle is all about how you sleep. With its patented sound analysis technology, Sleep Cycle listens to your sounds and provides you with an analysis of your sleep. It correlates its findings with your habits, external factors and daily activities and helps you figure out the good and bad influencers on your sleep.
The results of the sleep analysis are presented as easy-to-understand insights, graphs and trends, providing tailored guidance on how you can change your routine to improve your sleep.
Plus, it has an alarm clock that gently wakes you up when you're in your lightest sleep phase, so you'll wake up feeling refreshed.
Along with the tracking and refreshing alarm clock, Sleep Cycle helps you fall asleep more easily. They offer an extensive sound library with music, meditations and stories. They help reduce anxiety, relax your body, calm your breathing or just provide you with some comfort.
The free features are:
Sleep analysis with Sleep Cycle patented sound technology or accelerometer.
Detailed sleep statistics and daily sleep graphs.
Carefully selected alarm melodies.
Snooze by shaking or double-tapping the phone lightly.
Customizable wake-up window. From instant (regular alarm clock), up to 90 minutes.
Premium is $39.99 a year and includes:
Long-term sleep tracker trends.
Compare your sleep data to world sleep statistics.
Sleep aid – helps you fall asleep easier.
Sleep notes – see how Sleep Cycle affects your wake-up mood.
Online backup – lets you secure your sleep data online.
Export sleep data to Excel for detailed analysis.
Relaxation/Stress Relief
Relaxation and finding a way to release stress and tension is a must for everybody. But for truckers, it can be harder finding your outlet. As corny as it sounds, these relaxing, mindful, and meditation apps could be just the thing you need.
Headspace
Headspace is your guide to mindfulness for your everyday life. Learn meditation and mindfulness skills from world-class experts like former monk and Headspace co-founder Andy Puddicombe. Choose from hundreds of guided meditations on everything from managing stress and everyday anxiety to sleep, focus, and mind-body health. Build your practice your way with meditations for every experience level and lifestyle — including short, 3-minute sessions that fit seamlessly into a busy schedule.
Create the conditions for a more restful night with Sleep by Headspace. Discover meditations for winding down before bed and falling back to sleep in the middle of the night. Switch off for the evening with sleepcasts, calming stories in interesting locations that are slightly different each night. Explore a wide range of dreamy audio experiences with ambient nature recordings in soundscapes or tranquil sleep music designed to support a restful sleeping environment.
While there is a free side to the app, you can purchase Headspace Plus. It is $17.00 for the monthly plan, or with their annual plan, $89.99 ($7.50 per month).
Ten Percent Happier
With the Ten Percent Happier app, you'll discover guided meditations and practical teachings you can carry anywhere. This is the perfect app for beginners! With expert teachers readily available, they will walk you through the basics; one breathe at a time.
With Ten Percent Happier, you can:
Learn the basics.
Stats and performance-tracking.
Daily reminders.
350 plus guided meditations
"Top of Mind" meditation of the day.
Sleep meditations.
Personal coaching.
Practical teachings.
Built-in timer.
Listen offline.
You can enjoy this for free or take advantage of all app features for a $99.00 yearly fee.
Learn More!
Finding the right balance, outlet, and practice for a healthy lifestyle differs for everybody. If you're looking for tips or more resources and information about finding your happy and healthy lifestyle, check out the blog below.
Ways to Stay Healthy While on the Road
5 Common Health Issues Truck Drivers Should Know About