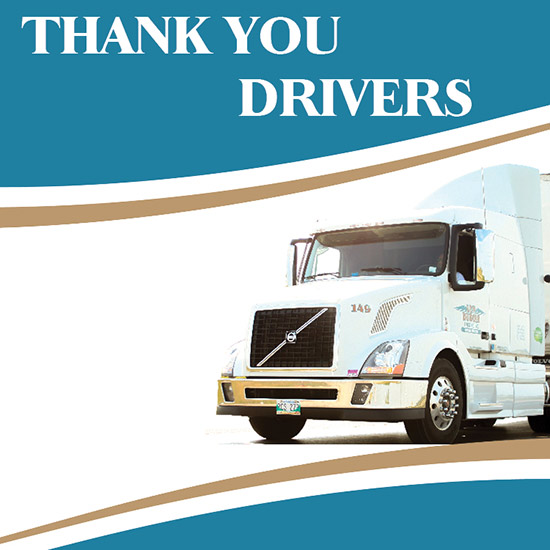 It is National Trucking Week, and while we are always grateful for the hard work and dedication our team displays on a daily basis, we'd like to take a few minutes to let everyone know just how much we appreciate you!
This has been a year for the record books, and while it's not over yet, this week seems like a good time to stop and reflect. The capacity crunch has definitely been keeping us moving fast and hard all year. Thank you for every additional load and quick turn around, you have taken this year. Your dedication to the team has not gone unnoticed.
Our drivers are the backbone and the front line of the company. It is your hard work and professionalism that allows us to maintain strong relationships with our clients, gain new clients, run more miles, employ more drivers and support staff, and grow as a company. Thank you for the long hours, the loading and unloading of freight, the timeliness of your deliveries and the continued professionalism your provide to our clients.
The Len Dubois Trucking Fleet is among the safest fleets on the road because of your continued dedication and vigilance to safety and compliance. We know that is is not always easy out there, and that you face risks everytime you get behind the wheel. We start our safety protocols at the home terminal with the safety and compliance team and the maintenance crew, but it is our drivers who live by regulations and mitigate the risks of the road who truly make the difference.
Most importantly, we want to thank our fleet for the hardest part of the job, the continued sacrifices made by each and every one of you. Being a truck driver does not come with an easy lifestyle, and we don't think that is lost on any of you. So, for every day you spend away from home, thank you! We truly understand and appreciate the sacrifice that is made by choosing a career in the trucking industry.
Obviously, many of you are out on runs, but if you're in on Friday, make sure to stop in at the yard for the BBQ and the company of the team. It's always a great time!