National Trucking Week
The first week of September marks National Trucking Week in Canada. National Trucking Week celebrates the unsung heroes and the contributions of the trucking industry. The annual campaign is a great time to say thanks to the over 400,000 men and women who keep our freight moving. Trucking and logistics are vital components of our economy, and as the saying goes – if you got it, a truck brought it!
National Trucking Week began in the late 90s by the Canadian Trucking Alliance as a way to acknowledge the trucking industry and the hundreds of thousands of men and women of the Canadian trucking industry.
Interesting Facts About the Trucking Industry
There are over 3.75 million professional truck drivers in North America, logging over 432 billion miles driven per year; to deliver goods, consumers need every day
Trucking companies, warehouses and private sectors employ over 9 million people in North America in trucking-related jobs
Over 268,000 Canadians are truck drivers making it one of the top occupations in the country
Figures show that, for every 10 jobs created in the trucking industry, seven jobs are created elsewhere (i.e. suppliers, service industries, road departments, etc)
A typical tractor-trailer raises about $45,000 a year in federal/provincial taxes and fees
90 percent of all consumer goods in Canada and 70 percent of all consumer goods in the United States are delivered by truck. The simple truth is that trucking is vital to our economy; remember – if you got it, a truck brought it
Approximately 400,000 commercial trucks cross the Manitoba US border each year
Most companies spend 95.2% of their revenue on operating expenses. This includes the driver, fuel, taxes and other costs of doing business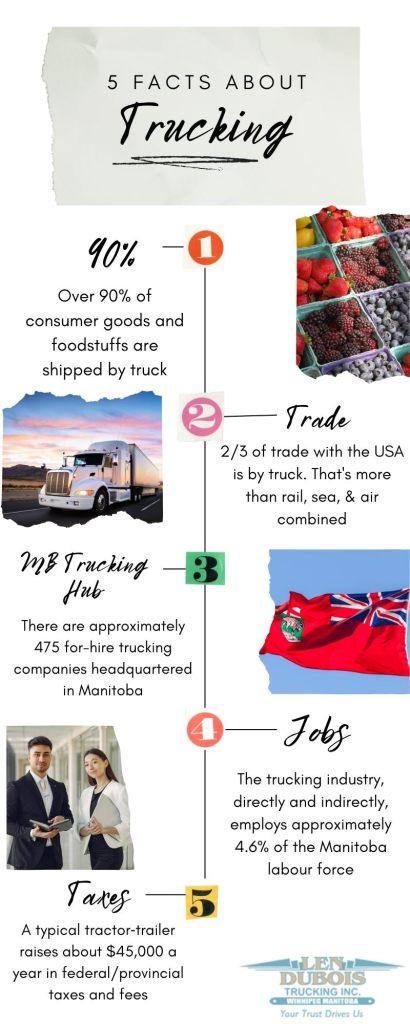 Thank You Drivers & Family
We extend our thank you to our drivers and owner operators for your hard work, dedication, and sacrifices to get the job done safely.
And a special thank you to the families of professional drivers! It's not said often enough, but we know you sacrifice while your trucker is on the road. We know from experience that trucking families are unique, and it takes special people to support OTR drivers while they're over-the-road.
Many of our office staff have been over-the-road drivers or come from trucking families. We know all too well the sacrifices and additional life stresses that our trucking families go through every day. We do our best to get your trucker home as often as possible, but this doesn't compare to the job you do every day.
Thank You Staff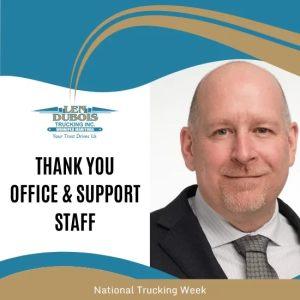 We'd also like to thank the team behind the scenes. Our hardworking office staff, and maintenance people, are essential to smooth operations and safety.
Trucking is a team effort, and many people must work together to get the job done safely. Freight might be two-thousand miles away, but a whole team of people is working behind the scenes to make it possible.
We thank the dispatchers, load planners, logistics staff, HR, safety & compliance professionals, and maintenance staff. Trucking and logistics are fast-paced, and your professionalism and hard work keep the economy running.
Thank you, and we look forward to a bright future working with you dedicated professionals!
Len Dubois Trucking Celebrates
Every year we give thanks to our fleet of drivers for all their hard work and dedication to Len Dubois Trucking. Being a long-haul driver is a tough job and you & your family sacrifice a lot being away from home. Drivers truly are the backbone of the industry! This week we will be doing prize draws for our fleet and finishing with lunch on Friday, plus we have put gifts in all your driver's bins. We have lots of great prize packs and John will announce the winners daily.
Ask John About the $1500 Sign-On Bonus for Company Drivers, $3000 Sign-On Bonus for Owner Operators, & $5000 Sign-On Bonus for Super-Single or Team Owner-Operators