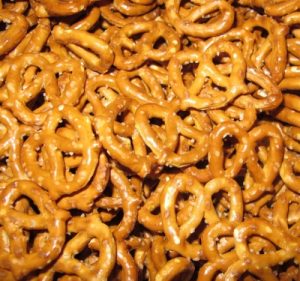 A healthy snack should have between 85 and 250 calories. One way to control portion size is to repackage single serving portions instead of eating from a box or bag. This is especially true if you are distracted while eating – for example while your driving down the highway.
Here is a list of 14 different snack ideas that are perfect for a truck driver's week away from home.
Snack 1: 2 cups of whole strawberries and an oatmeal granola bar
Snack 2: ½ a cup of pretzels and 2 stalks of celery
Snack 3: ¼ cup of cubed cheddar cheese with 1 medium apple
Snack 4: ½ cup of fruit flavoured yoghurt with a ¼ cup of granola
Snack 5: 1 cup of mango and ½ cup of roasted pumpkin seeds
Snack 6: ½ cup of Grape Nuts cereal with ½ cup of milk
Snack 7: ½ cup of animal crackers and a glass of milk
Snack 8: 1 cup of sugar snap peas with 2 tablespoons of hummus
Snack 9: 2 kiwis and half a chicken salad sandwich on whole grain bread
Snack 10: ½ a grapefruit and a bran muffin
Snack 11: 1 cup of pineapple and 1 serving of beef jerky
Snack 12: ½ a cup of cherry tomatoes and ½ a multigrain bagel with herb and garlic cream cheese
Snack 13: 1 medium banana and a tortilla wrap rolled up with 2 tablespoons of peanut butter
Snack 14: 6 Triscuits with 2 tablespoons of cream cheese topped with radish slices
Len Dubois Trucking is a family-run transportation and trucking company in Winnipeg, Manitoba. We are looking for quality Owner/Operators and company drivers. 
Join our team today.