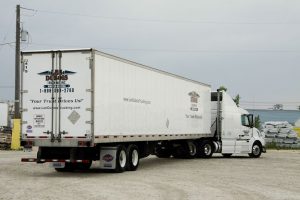 As Operation Safe Driver comes to an end, it's important that truck drivers continue with safety and compliance practices. These safety blitz weeks throughout the year not only help catch violations, they help enforce a culture of safety in the trucking industry.
We've a lot about safety and compliance over the years. Here are some useful articles to help stay on the right side safety:
One of the most annoying things for a truck driver is picking up a trailer with a defect. What's worse is picking up a trailer with a defect which clearly another driver knew about, or should have known about, and didn't report. It's hard to say a missing mudflap or
blown tire happened after the driver dropped the trailer.
You need to inspect your truck before each trip and the beginning of each day while on your trip. Malfunctioning equipment is a safety issue and can make you the target of costly tickets.
Pre-trips are important to trucking safety and truck maintenance. Pre-trips should be done when you start your trip and at the beginning of each work day.
Log book violations are costly and avoidable. If you fill out your log book incorrectly, or if it's incomplete, you could be fined or warned. Even warnings go on a company's safety profile. When you're inspected you're expected to have no violations.
This is a pretty  good guide about air brakes and air brake inspections.
This is an article about healthy ways to keep your energy up throughout the day. Although not a compliance issue, preventing fatigue driving is a big safety issue. It's a good read. Share if you like it.
Not a compliance article, but having the proper supplies for trucking in the winter could save your life.
As a long haul truck driver you are more likely to run into aggressive diving situations and drivers than the average four-wheeler. Not only do you drive more miles than the average person, you are more aware of what is happening on the road. This is a skill that you have developed over years of driving every day.
Here are some tips to avoid aggressive driving situations.