Pre trip & post trip inspections are part of the job as a truck driver. Save yourself problems down the road by properly inspecting your equipment before, during, and after your trips.
Len Dubois Trucking is a Winnipeg based trucking company who values our professional team. Join our team today!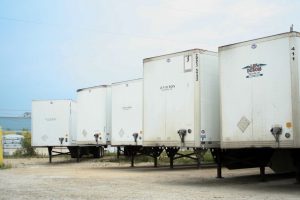 We make significant investments in modern and well maintained equipment. Properly maintained equipment is necessary for all of us to our job effectively in the trucking industry.
Proper pre trip inspections are important for proper fleet maintenance. Not only is it required by law, finding problems at the yard before we leave on a run will save a problem down the road, more specifically a costly repair on the side of the road. It's a nice feeling to be able to get a good start to a run confident that our equipment is in good working order.
Proper post trip inspections, of both the truck and trailer, will catch problems and allow us to make repairs before the equipment leaves the yard. Remember that our trailers are shared with the fleet. When a needed repair is not reported by the last person to use the trailer another driver is forced to deal with it before they can leave on their trip. This can and does cause delays, costly repair bills for weekend repairs, frustration for the drivers who now have to deal with the problem and customer service failures if the delivery has been delayed.
Winter is also around the corner. Frigid weather creates more challenges than in the summer including special challenges for our equipment – it's a challenging time for truck drivers. Subzero temps mean more idling, and more wear on air lines and electrical components. We need to make sure our equipment is safe and working properly in these adverse conditions.
Winter weather causes travel delays and puts a lot of pressure on delivery times. Proper maintenance and taking care of problems when they occur will save time, money, and a frosty breakdowns on the side of the road. We can expect more broken air lines and more frozen breaks in cold weather – additional delays from repairs, which should have already been done, can really mess up our schedules.
Trucking is a team effort. We need to work together to ensure we are safe, compliant with regulations, and on time. The driver is in the best position to find and report any maintenance problems. Conducting proper pre trip and post trip inspections is the best way to take care of problems efficiently and reduce downtime.