Save money and eat well while you're over the road. Check out Len Dubois Trucking for some great meals you can make at home and take with you. Follow us  on Facebook & Twitter for updates, info, trucking pictures, and more.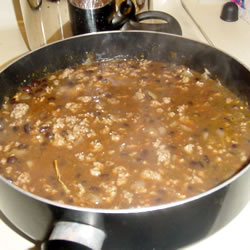 Are you looking for a great meal that you can take along with you on the road? Try out this Black Bean Chili recipe. Loaded with protein it's sure to give you a boost of energy and fill you up.
INGREDIENTS
1 tablespoon vegetable oil
1 onion, diced
2 cloves garlic, minced
1 pound ground turkey
3 (15 ounce) cans black beans (don't drain)
1 (14.5 ounce) can crushed tomatoes
1 1/2 tablespoons chili powder
1 tablespoon dried oregano
1 tablespoon dried basil leaves
1 tablespoon red wine vinegar
DIRECTIONS
Heat the oil in a large heavy pot over medium heat.
Cook onion and garlic until onions are translucent.
Add turkey and cook, stirring, until meat is brown.
Stir in beans, tomatoes, chili powder, oregano, basil and vinegar.
Reduce heat to low, cover and simmer 60 minutes or more, until flavors are well blended.