Start your day off right while out on the road with these mini sesame zucchini loaves! Bake them at home and then pack them up for the road.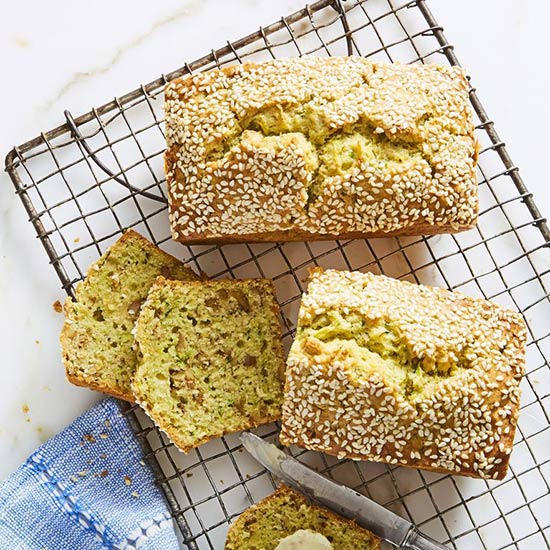 INGREDIENTS:
2/3 cups olive oil, plus more for pans
2 cups all-purpose flour
2 1/2 tsp. baking powder
1 tsp. kosher salt
1/2 cup granulated sugar
1/2 cup packed brown sugar
1 large lemon
2 large eggs, at room temp
12 oz. zucchini, coarsely grated
1 cup walnuts, toasted and chopped
2 tbsp. white sesame seeds
DIRECTIONS:
Butter, for serving
Heat oven to 350°F. Oil 3 mini (3- by 6-inch) loaf pans.
In large bowl, whisk together flour, baking powder, and salt.
In second bowl, combine sugars, then finely grate lemon zest on top. Rub zest into sugars with fingertips, breaking up any clumps of brown sugar. Add eggs and oil and whisk until smooth. Stir in zucchini, then flour mixture. Gently fold in walnuts.
Divide batter evenly among prepared pans. Sprinkle tops with sesame seeds and bake until wooden pick inserted in centers comes out clean, 35 to 40 minutes.
Cool in pans on wire rack for about 10 minutes. Run thin-bladed knife along edges of pans and unmold loaves. Cool completely on rack.