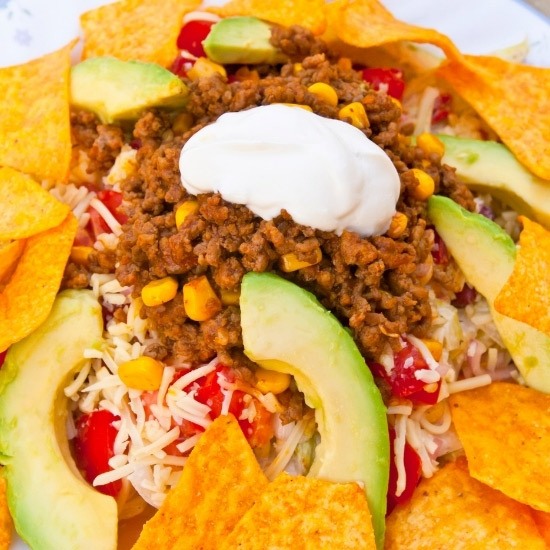 Who doesn't love Taco Salad with beef? This delicious recipe is easy to make right in the truck (with some equipment) or cooked up the beef at home and blend it all together on the road.
INGREDIENTS
1 tablespoon olive oil
1 tablespoon chili powder
1 teaspoon garlic powder
1 teaspoon onion powder
1 teaspoon smoked paprika
1 teaspoon ground cumin
1 pound lean ground beef
DRESSING
3/4 cup sour cream
3/4 cup salsa
SALAD
6 cups romaine lettuce (chopped)
3/4 cup little tomatoes (grape or cherry, halved)
1/2 small red onion (chopped)
1 cup shredded cheese (e.g. cheddar or Tex-Mex blend)
1/2 cup canned corn (drained)
1/2 cup black beans (drained)
1/2 avocado (sliced/chopped)
1 cup Doritos (crushed)
1 tablespoon fresh cilantro (chopped – optional)
Salt & pepper (to taste)
DIRECTIONS
Add the oil, ground beef, and spices to a skillet over medium-high heat. Cook the beef until it's browned and cooked through, stirring occasionally (about 8-10 minutes). There should not be much (if any) fat to drain if you used lean ground beef. Just spoon the excess fat out if needed.
While the beef is cooking, start to prep your other salad ingredients, and make the dressing by mixing the sour cream and salsa together.
Add the salad ingredients to a large bowl. Once the beef is done, let it cool for a few minutes. Add the beef and Doritos to the salad last (so the Doritos don't get soggy). Toss the salad with the dressing, season with salt & pepper as needed, and serve immediately.
TIPS
If you use an electric skillet or a hot plate, you can cook the meat in this delicious Taco Salad with beef recipe right in your truck.
Need more spice? Add in ½ teaspoon of cayenne pepper.
You can also use ready-made taco seasoning instead of the spices listed in the recipe.