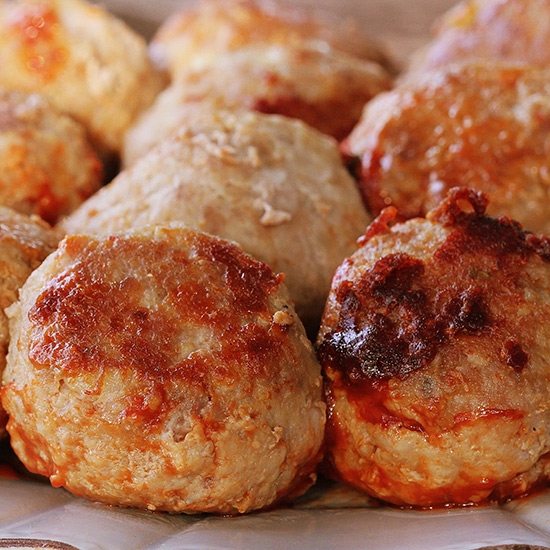 We all love the traditional spaghetti and meatballs, but there are so many things that you can pair with meatballs. They can be a little time consuming to make, but if you make them ahead of time, you can freeze them for up to three months and then heat up what you want, when you want it.
INGREDIENTS
1 pound extra-lean ground beef
1/2 teaspoon sea salt
1 small onion, diced
1/2 teaspoon garlic salt
1 1/2 teaspoons Italian seasoning
3/4 teaspoon dried oregano
3/4 teaspoon crushed red pepper flakes
1 dash hot pepper sauce
1 1/2 tablespoons Worcestershire sauce
1/3 cup skim milk
1/4 cup grated Parmesan cheese
1/2 cup seasoned bread crumbs
DIRECTIONS
Preheat an oven to 400 degrees F (200 degrees C).
Place the beef into a mixing bowl, and season with salt, onion, garlic salt, Italian seasoning, oregano, red pepper flakes, hot pepper sauce, and Worcestershire sauce; mix well.
Add the milk, Parmesan cheese, and bread crumbs. Mix until evenly blended.
Form into 1 1/2-inch meatball, and place onto a baking sheet.
Bake in the preheated oven until no longer pink in the center, 20 to 25 minutes.
Additional Notes:
This recipe makes four servings, so if you want more you can double or triple the recipe and make more meatballs all at once.
Package individual servings of the meatballs into freezer bags – they will last about three months.
Add the meatballs to spaghetti sauce or eat them alongside some of your favourite sidedishes like perogies, or macaroni and cheese, on top of some rice, alongside a salad, make homemade meatball subs or whatever other combination you can think of.