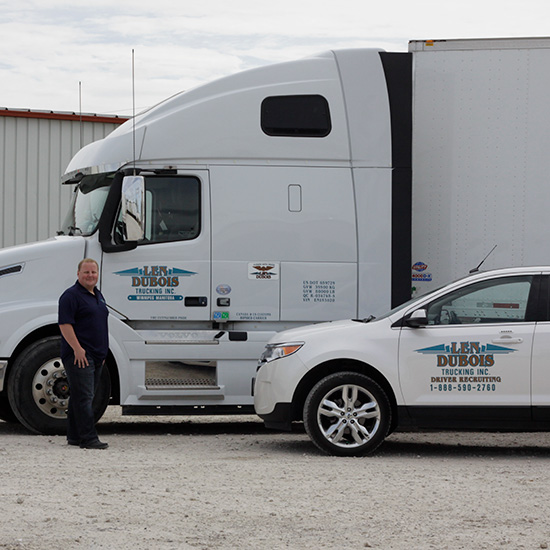 Earlier this month, Len Dubois Trucking was honoured with a Distinguished Member Award for its contribution to the Manitoba Trucking Industry.
For 33 years, Len Dubois Trucking has been invested in trucking. We are proud of the fantastic professionals on our team and the contributions that they have made to the trucking industry over the years. Our driving, dispatch, operations and maintenance teams all work together to ensure that Len Dubois Trucking is one of the best trucking companies operating in Manitoba.
With a new 6.5-acre facility and hauling capabilities that include Full Truck Loads, Less than Truck Loads, Hazardous Materials, Special Commodities, Antiques, and pretty much whatever will fit in the trailer, Len Dubois Trucking is ready to continue growing.
Invested in Drivers
We believe the Len Dubois Trucking is only as good as its team. The relationships and foundation of trust we have with our driving fleet allow us to continue to grow, prosper, create new employment opportunities, and continue to contribute to the industry as a team.
Our company culture is one that puts the driver, and their families first. We have many long-term drivers, who have driven a million+ miles with us, some driver families even consider Len Dubois as part of their extended family. We haven't done this without investing in our drivers.
Driver safety is our top priority. We have millions of accident-free miles under our belts and are always working to educate our fleet, our office team, and the public about the industry and roadway safety.
Our office team understands life on the road, with many from our management and operations team starting their careers in the industry as over the road drivers, or growing up in trucking families. President and Owner, Jason, was an Owner-Operator before taking over the reins of the company. Gerry, the Operation Manager, started his career in the trucking industry as a driver. John and Ken, who make up the recruiting and Safety and Compliance team, both drove over the road for years before joining the office team. These are just a few of the people on our team who know exactly what it's like to be a driver.
Life over the road is difficult enough. Join a team of professionals who are invested in trucking and more importantly, invested in drivers.