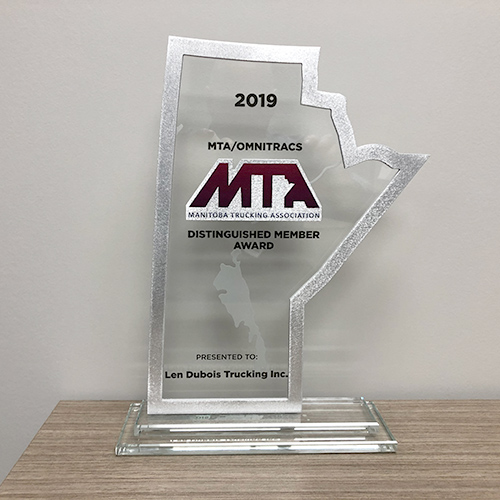 On Friday, November 1, 2019, Len Dubois Trucking was presented with the Omnitracs/Manitoba Trucking Association Distinguished Member Award.
The Omnitracs Distinguished Member Award is presented to an MTA Member Company deemed to have made a long-term commitment and noteworthy contribution to the Manitoba Trucking Association, its Associated Trades Division, Vehicle Maintenance Council or the Manitoba trucking industry, through ongoing dedication and active participation in support of the MTA.
This award came as a surprise yet we were very honoured to receive it. It is always nice to be recognized amongst your peers.
Len Dubois Trucking has been a member of the Manitoba Trucking Association for as long as I can remember. I think we have been members since my dad started the company in 1986.
My dad, Len, believed that it was important to participate and support the association of the industry you work in. I have since taken on that same belief and have been supporting the MTA by participating as a board member and for the last three years been on the Executive Committee.
I encourage our staff to participate as well and to use the MTA as a resource for all things trucking related. In return, the MTA has helped us become the carrier it is today by providing ongoing support, training, and simply answering any questions we may have. If they don't know the answer they find it out for us.
Our Story
Len Dubois grew up on a farm north of St. Claude, MB. He bought his first truck at 18 and began hauling gravel around Southern Manitoba. Over the years he would add a truck or two and even tried dispatching while at Wade's Grain, feed and fertilizer. But the lure of the road always called and in 1986 he acquired his own running rights and Len Dubois Trucking Inc. was established.
With Len's sudden passing in 1998, the family had to assume the reins. At 23 years of age Jason, who was driving for his father at the time as an owner-operator, came off the road and helped manage the fleet of 11 trucks.
Around this time is also when Jason and Janet decided to marry. Over the last 20 years, they have not only grown their business but their family as well, with 2 girls, Olivia and Reena.
In 2012, Dubois Global Logistics was established as an expansion to Len Dubois Trucking. Providing complete logistics solutions including ocean, rail, air, trucking and warehousing.
Today, you will find Len Dubois Trucking in Rosser Manitoba, in their new 6.5-acre facility with a fleet of 70 trucks. With hauling capabilities that include Full Truck Loads, Less than Truck Loads, Hazardous Materials, Special Commodities, Antiques, and pretty much whatever will fit in the trailer! They now have the facilities to grow even further.
Strong supporters of the community Jason and Janet have always been engaged in giving back. You may have seen them at the Santa Claus Parade, where they provide a trailer every year for the Portage & Main street party. They are also supporters of The Children's Rehabilitative Centre, The Truck Convoy for Special Olympics and the Children's Museum. You may also have seen Jason on the STARS Air Ambulance Island Rescue, where he raised $50,000 towards their cause.
Giving back to the community is a value that Jason and Janet hold dear. They are dedicated to the communities they live and work in and they are actively engaged in making a better Manitoba.
Len Dubois has maintained a strong presence within the MTA. Jason is a current Board and Executive Member and has made himself available when needed on extremely short notice. He has also participated in the selection of the Inland/Custom Truck Sales Industry Excellence recipients and is currently working on becoming RPM certified.
Len Dubois exemplifies commitment and dedication to our industry and our Association. Their readiness to help at all times and at a moment's notice is an example of the strong community leaders they are.
Thank You to our Team
Thank you to all the drivers and staff who continue to make our company a great place to come to work. Janet and I are very fortunate to have such great support from you all.