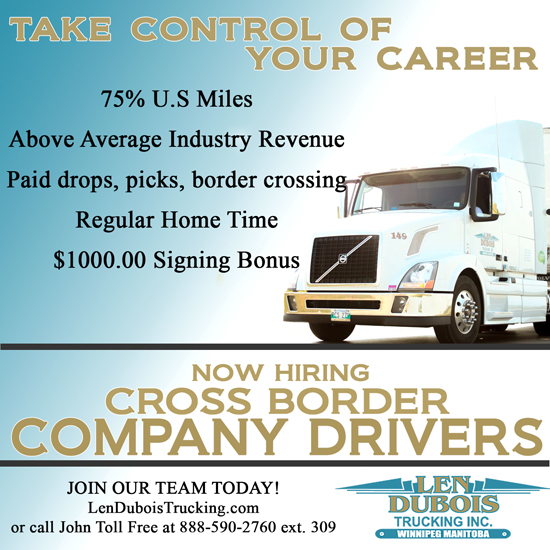 Len Dubois Trucking of Winnipeg Manitoba is now hiring professional Class One Company Drivers to join our growing fleet.
Why You Should Join Our Team
Most of our management team have been over the road, long-haul drivers, or have grown up in trucking families. If there is one thing we understand it is life as a truck driver. We offer you a family-friendly work environment, a team of professionals that are always there to help you get the job done and a strong commitment to your safety, health, and wellness.
We know that making a company switch has financial tolls, that is why we offer a $1000.00 Sign-On Bonus for Company Drivers. In addition, with the falling Canadian Dollar and the high U.S. Exchange Rate, Len Dubois Trucking will be giving all company drivers a 1¢ per mile increase on all U.S. miles driven. Hopefully, this will help ease the financial burden of the exchange rates while running in the U.S.
Earn a Better Living
Many of our company drivers choose to run 10,000 plus miles per month while still enjoying life outside of the truck. They do this by earning a better living with us:
Our Company Drivers receive:
A $0.40 per mile starting base mileage rate (the more experience you have, the more we pay)
Paid stops (first and last included),
Paid Border crossings,
Mileage and drop premiums on specialized runs,
Monthly mileage rewards and truck idling incentives and more!
Who We're Looking For
If you are a professional truck driver, who is committed to Safety and Compliance, quality customer service and strong work ethics you may be just the person we are looking for. Successful candidates will have:
A valid Class One Driver's License,
Will be able to travel to the U.S.
Will be required to pass a Len Dubois Trucking road test; and
Candidates should also be able to provide a clean driver's abstract and an up-to-date criminal record check.