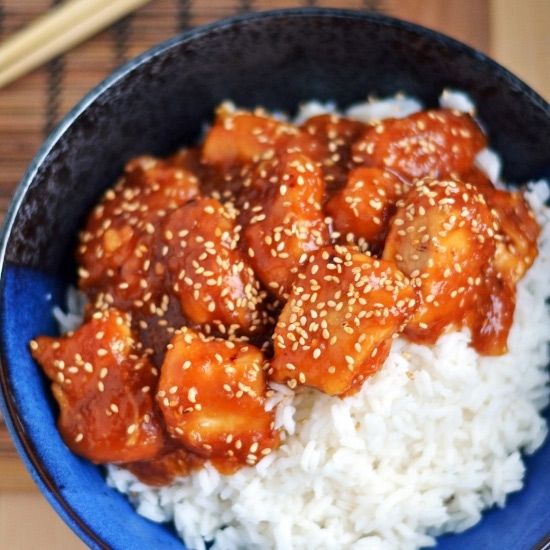 Feel like adding some honey to your life? Then this Honey Sesame Chicken is just the fix you need. Prepared in a crockpot, you cook this tasty meal right in the truck with no hassles.
INGREDIENTS
4 boneless, skinless chicken breasts (thighs would be fine too)
salt and pepper to taste
1 cup honey
½ cup soy sauce
½ cup diced onion
¼ cup ketchup
2 Tablespoons vegetable oil (could also use olive oil or canola oil)
2 cloves garlic minced
¼ teaspoon red pepper flakes (optional – doesn't really add heat, just adds more flavour)
4 teaspoon cornstarch dissolved in 6 Tablespoons water
sesame seeds
DIRECTIONS
Spray crockpot with non-stick cooking spray.
Season both sides of chicken lightly with salt and pepper, put into crockpot.
In a small bowl, combine honey, soy sauce, onion, ketchup, oil, garlic and pepper flakes. Pour over chicken.
Cook on low for 3-4 hours or on high 1 1/2 to 2 1/2 hours, or just until chicken is cooked through. Remove chicken from crock pot, leave sauce. Dissolve 4 teaspoons of cornstarch add 6 tablespoons of water and pour into crockpot. Stir to combine with sauce. Put lid back on and cook sauce on high for ten more minutes or until slightly thickened.
Cut chicken into bite size pieces, then return to pot and toss with sauce before serving. Sprinkle with sesame seeds and serve over rice or noodles.