Now that the weather is starting to get cooler, you might want to warm up after a long day with a nice bowl of soup. This delicious meatball soup recipe is perfect to make at home and freeze so you can enjoy it out on the road.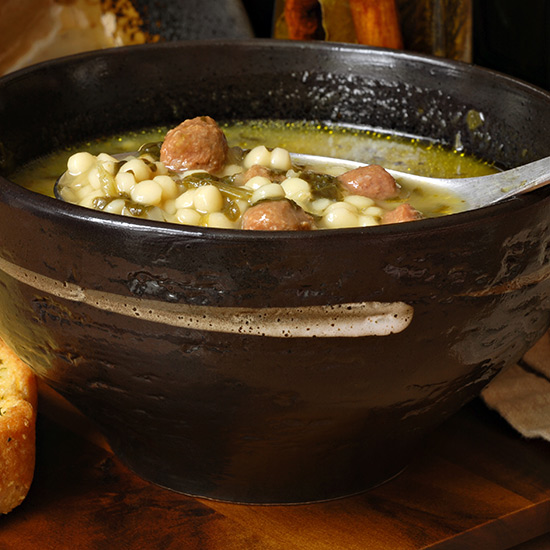 INGREDIENTS:
12 ounces ground meat (chicken, turkey, pork, beef, or veal)
1/2 cup dry breadcrumbs or panko
3 large eggs, divided
1/2 cup grated Pecorino Romano cheese, divided
1/2 cup grated Parmesan cheese, divided
1 tablespoon chopped fresh oregano leaves, or 1 teaspoon dried oregano
1 teaspoon salt
1/2 teaspoon freshly ground black pepper
3 tablespoons olive oil, divided
1 medium yellow onion, diced
4 cloves garlic, minced
8 cups chicken broth
1 bunch greens (such as escarole, kale, spinach, chard, collards, or broccoli greens), trimmed and torn into bite-sized pieces (about 6 lightly packed cups)
Red pepper flakes, (optional)
3/4 cup cooked orzo, or other small pasta (optional)
DIRECTIONS:
Place the ground meat, breadcrumbs, 1 of the eggs, 1/4 cup of the Pecorino, 1/4 cup of the Parmesan, oregano, salt, and pepper in a bowl. Mix thoroughly but be careful not to overwork the meat. Form the mixture into 3/4-inch to 1 1/2-inch balls. You should have 20 to 30 meatballs, depending on how large you form them.
Heat 2 tablespoons of the oil in a large skillet over medium-high heat until shimmering. Add the meatballs in batches so as not to crowd the pan and cook, turning occasionally, until browned all over, 3 to 5 minutes. Transfer to a paper towel-lined plate as each batch is ready.
Heat the remaining 1 tablespoon of oil in a pot over medium-high heat. Add the onion and garlic and sauté until the onions are tender and the garlic is soft but not browned, about 5 minutes. Add the broth and bring to a boil. Add the greens, reduce the heat to low, cover, and simmer for 10 minutes. Add the meatballs and cook 5 minutes more. Meanwhile, combine the remaining 2 eggs, remaining 1/4 cup Pecorino, and remaining 1/4 cup Parmesan in a small bowl and beat with a fork to blend.
Slowly pour the egg mixture into the simmering soup, stirring slowly in one direction. Cover and simmer just until egg bits are set, about 30 seconds. Stir in the cooked pasta, if using. Taste and season with salt and black pepper.
TIPS:
If you want a little kick of flavour for your soup, add red pepper flakes.
Store in a sealed container to place in the freezer.
Reheat in microwave.