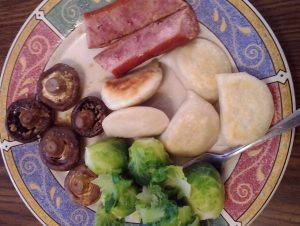 Do you have an electric frying pan or skillet in the truck? Try making perogies and sausage for lunch or dinner.Perogies with sausage is a favourite dinner for just about everyone. Why not cook some up in the truck instead of spending your hard earned cash in the truck stop.
Perogies and Sausage
INGREDIENTS
1 Tablespoon Oil
6-8 Perogies
¼ Small kielbasa or sausage
¼ cup diced onions (optional)
DIRECTIONS
Coat the bottom of your frying pan or skillet with oil and warm on medium heat for about 1 minute.
Put Perogies and sausage into frying pan and cook until Perogies and sausage are browned flipping as necessary. Total cook time will very between 10 and 15 minutes.
Basic Microwave Brussels Sprouts
2 cups Brussels sprouts
1/2 cup water
DIRECTIONS
Place Brussels sprouts in microwave-safe dish. Add water. Cover and cook on high for 2-3 minutes per cup, or until cooked.
Do you have a recipe that you want to share with us? Send your recipe, along with a picture and we'll share it with the fleet. Email us at LenDuboisTrucking@gmail.com.
Len Dubois Trucking is a family-run transportation and trucking company in Winnipeg, Manitoba. We are looking for quality Owner/Operators and company drivers. Join our team today.