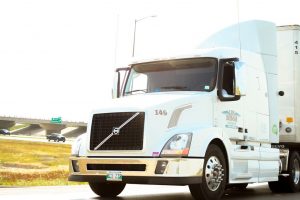 The spring safety blitz is just a round the corner. Running June 3 – 5, 2014 the FMCSA, in cooperation with the trucking industry, will increase inspections of trucks and drivers.
We are looking to our fleet to have, once again, no violations during this time. We run well maintained equipment and have some of Manitoba's best drivers. So we are confident we'll have no problems.
The key is the little things. If we are out of compliance in any way, it counts against our safety record. Even warnings negatively affect our safety score. It's important to ensure we are 100% on paperwork and equipment.
Log Book
Ensure every line is filled out and your log book isn't missing information. We recently had a driver receive a warning for failing to record the BOL # or load description on his log book. Fortunately he didn't receive a fine, but the warning counts against our safety record.
Make sure your log book is up-to-date to your last change of duty status. It's easy to start down the road without marking yourself as Driving and catch up on your next stop, but you can be cited for not being up to date.
Take and log your 30 minute break (in the USA). Drivers are still getting used to this and DOT is looking for this violation. The rule is simple – you can't let more than 8 hours of real time go by without a 30 minute break (Off Duty).
Make sure you log book is accurate. Falsifying your log is a major violation which carries a heavy fine in every jurisdiction. Scales can see when you crossed the border and crossed other scales. If your log book is inspected they will likely check to see if your log book matches.
Our drivers do a great job and are among the safest on the road. When we are in violation, it's usually the little things which are easily over looked during the busy days of OTR drivers. These little things, such as a line in a drivers log book, are avoidable. A little more attention paid to the details will go along way.
Len Dubois Trucking is a family-run transportation and trucking company in Winnipeg, Manitoba. We are looking for quality Owner/Operators and company drivers. Join our team today.