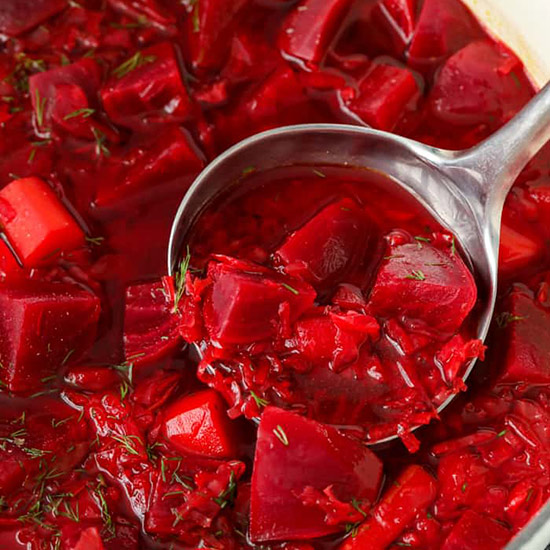 After a long day of work, a nice bowl of soup can quickly ease you into a relaxing evening. With this easy borscht recipe, you can taste pure bliss and fill your belly. The best thing about borscht is that it is a great soup to freeze. So you can make a batch or two at home and bring along on the road.
INGREDIENTS:
2 tablespoons olive oil
4 red beets ½ inch diced (approx 1 ½ pound)
2 carrots ½ inch diced
1 large russet potato peeled and ½ inch diced
½ small green cabbage shaved
2 cloves garlic minced
4 cups vegetable broth
4 cups beef broth
2 tablespoons dill fresh, minced
2 tablespoons lemon juice fresh
1 teaspoon lemon zest
1 bay leaf
kosher salt to taste
black pepper to taste
sour cream optional, for serving
DIRECTIONS:
Add olive oil to a soup pot and set over medium-high heat. When the oil is hot, add in the beets, carrots, potatoes, and cabbage. Stir to combine.
Cook for 10 minutes to slightly soften the vegetables.
Add in the garlic and saute for 30 seconds or until fragrant.
Pour in the beef and the vegetable broth and add the bay leaf. Simmer for 20-25 minutes or until the beets and carrots are tender.
Discard bay leaf. Stir in the fresh dill, lemon juice, and lemon zest—taste and season with the desired amount of kosher salt and black pepper.
Serve with a dollop of sour cream on top.