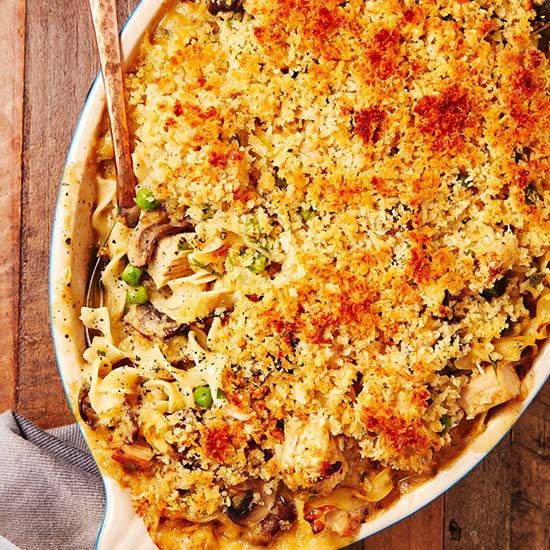 With Christmas quickly making its way, your home will soon be full of turkey leftovers. While turkey is delicious, spending the following days eating plain old turkey can get boring. With this Turkey Casserole recipe, you can make sure that turkey doesn't go to waste while adding a little spice to your meal!
INGREDIENTS
2/3 cup panko
3/4 cup freshly grated Parmesan, divided
6 tbsp butter, divided, plus more for pan
Kosher salt
1 small yellow onion, chopped
1 1/4 cup sliced cremini mushrooms
1/4 cup all-purpose flour
4 cup low-sodium chicken stock
2 cup shredded cheddar
3 cup cubed cooked turkey
8 oz egg noodles, cooked
1 cup frozen peas
3 tbsp freshly chopped parsley, plus more for garnish
1 tbsp lemon juice
Freshly ground black pepper
DIRECTIONS
Preheat oven to 425°. In a medium bowl, combine panko with 1/4 cup Parmesan and 3 tablespoons of butter. Season with salt.
In a medium saucepan over medium-high heat, melt the remaining 3 tablespoons of butter. Add onion and mushrooms and season with salt. Cook, stirring until softened, about 6 minutes. Add flour and cook, stirring, 1 minute more. Pour chicken stock into a saucepan and bring to a boil.
Reduce heat to medium-low and simmer, stirring, until thickened, about 5 minutes. Remove from heat and stir in cheddar and remaining ½ cup Parmesan until melted.
Add turkey, noodles, peas, parsley, and lemon juice to the saucepan and season with salt and pepper.
Brush a 9″-x-13″ baking dish with butter and scrape turkey casserole mixture into the dish. Top with buttered breadcrumbs. Bake until golden and bubbling, about 20 minutes.
Top with more parsley before serving.