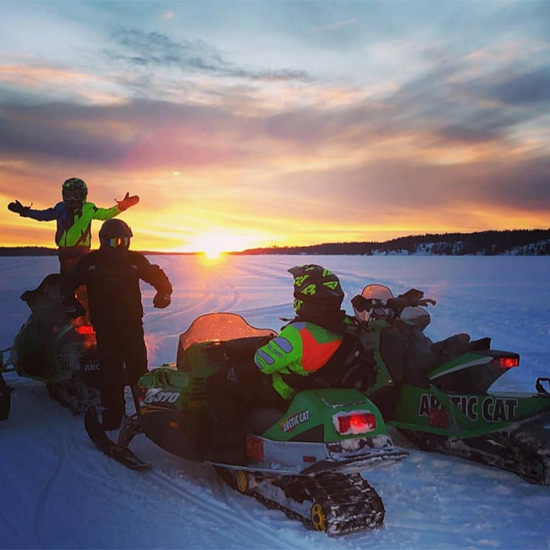 The beginning of 2021 is only a few days away! Start your new year off right by spending some outdoorsy time with your family. Your adventures during January will create lasting memories that you and your family will enjoy and relive for years to come.
Ice Fishing
This Canadian favourite is the perfect way to spend some quality time with your family! Spending the day sitting with your family, snacking away, and, hopefully, snagging a few fish will create lasting memories for the whole family.
Many people are put off by the obvious fact that you are exposed to the winter elements while ice fishing. But when you dress properly, you'll feel warm, cozy, and comfortable. Eastman Tourism has recently written a blog called Discover your Eastman Adventure: Ice Fishing 101, discussing the ins and outs of ice fishing. They go into details of how to dress, ice safety, gear, and more and include the ten-part Youtube series The Complete Guide to Ice Fishing by Jay Siemens and Travel Manitoba.
For information on hot spot fishing destinations, visit the links below.
5 Eastman Ice Fishing Destinations – Eastman Tourism
Epic Tour of Manitoba Ice Fishing Destinations 1.0 – Hunt/Fish Manitoba
Epic Tour of Manitoba Ice Fishing Destinations 2.0 – Hunt/Fish Manitoba
Epic Tour of Manitoba Ice Fishing Destinations 3.0 – Hunt/Fish Manitoba
Outdoor Skating Rinks
The good news was just released that outdoor skating rinks will be opening! Once the weather allows for it, at least. But with January just around the corner, outdoor skating rinks should be opening very soon. And when they do, grab your skates and take your family out for a day of fun, laugher, and probably a few tumbles!
For information on the opening of skating rinks, visit CBC's article "Lace 'em up, but keep your distance: Winnipeg hockey rinks to open with restrictions."
Skiing
Whether you and your family are pros when it comes to skiing or just wanting to try something new, skiing is certainly an activity that the whole family will love!
Not only is it a great way to be active during the Covid madness, but it's a great way to spend some quality time and discover the incredible nature sights that Manitoba holds.
If you're just starting out, you probably don't have the needed equipment, nor want to spend your money on the gear and end up hating it. At Woodcock Cycle Works, you can rent all the skiing equipment you need, plus a lot more like snowshoes, fat bikes, and more!
Manitoba has many breathtaking skiing trails waiting for you! Visit Cross Country Ski Association of Manitoba's website for a list of the amazing trails all over Manitoba.
Snowmobiling
Are you ready for a thrilling adventure? Like ice fishing, snowmobiling is another favourite for Manitobans. From the exciting speeds to the breathtaking sights (especially in Rural Manitoba), you and your family can spend hours exploring the gorgeous trails.
And the best part has yet to come! You don't have to spend thousands to buy your own snowmobile! All you have to do is go to SnowMuch Fun and rent a snowmobile. Along with Snowmobiles, they also offer rentals for ATVs, quads, side by sides, and Sea-doos.
For a list of snowmobiling trails, visit Snoriders' website and Snoman's website.
Snowshoeing
Another fantastic way to experience Manitoba's stunning trails is by snowshoeing! Once a means of transportation, snowshoeing is becoming a hot new activity that you and your family will fall in love with!
At Wilderness Supply, you can rent all the needed equipment to start your snowshoe adventure, plus some extras!
For information on snowshoeing trails, visit Explore and AllTrails websites.