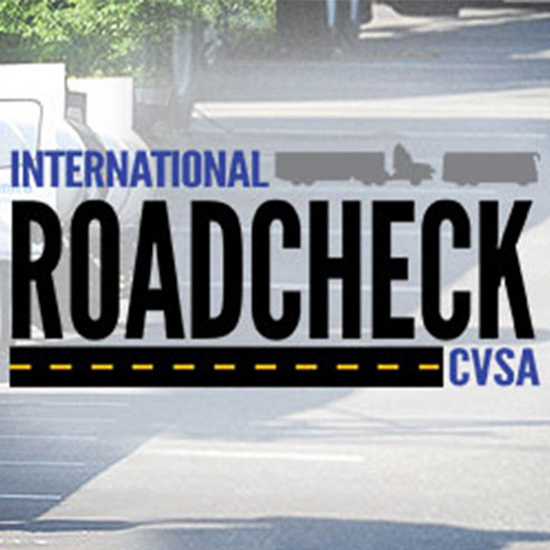 Focus on Driver Requirments
CVSA's International Roadcheck was postponed in May due to the COVID-19 pandemic. It's back on from September 9 -11, 2020.
And don't forget about Brake Safety Week Aug 23 -29, 2020. We expect another unannounced blitz before the end of the year too.
None of this is a concern as we know our fleet runs in compliance at all times and drivers are expected to pass an inspection whenever one takes place.
This year's focus is on the driver requirements component of a roadside inspection.
CVSA's International Roadcheck is the largest commercial motor vehicle enforcement program in the world. Every year, the CVSA conducts a large-scale, North American Wide Commercial Vehicle Safety Blitz focusing on driver safety, compliance, and education.
This year, Roadcheck is September 9 – 11, 2020.
International Roadcheck is a high-volume, high-visibility three-day enforcement initiative that highlights the importance of commercial motor vehicle safety through roadside inspections. Over that 72-hour period, commercial motor vehicle inspectors in jurisdictions throughout North America will conduct inspections on commercial motor vehicles and drivers.
The International Roadcheck places special emphasis on a category of violations each year. This year's focus is on the driver requirements category of a roadside inspection. According to the U.S. Federal Motor Carrier Safety Administration's (FMCSA) fiscal 2019 data (as of Dec. 27, 2019), of the 3.36 million inspections conducted, 944,794 driver violations were discovered, of which 195,545 were out-of-service conditions.
"With last year's federal electronic logging device full-compliance mandate in the U.S., the Alliance decided that this year's International Roadcheck would be the perfect opportunity to revisit all aspects of roadside inspection driver requirements," said CVSA President Sgt. John Samis with the Delaware State Police.
What to Expect during this 72 Hour Blitz
CVSA-certified inspectors primarily conduct the North American Standard Level I Inspection, a 37-step procedure that includes two main inspection categories: an examination of driver operating requirements and vehicle mechanical fitness. A third category, hazardous materials/dangerous goods, may also be part of a Level I Inspection.
During the inspection, inspectors will:
Interview and prepare the driver for the inspection,
Collect and verify the driver's document identify the motor carrier, examine the driver's license, and check the record of duty status.
The inspector will check the Medical Examiner's Certificate, Skill Performance Evaluation Certificate and the driver's daily vehicle inspection report, if applicable.
Inspectors will check drivers for seat belt usage, illness, fatigue, and apparent alcohol and or drug possession or impairment.
The vehicle inspection will then being and will include checking critical vehicle inspection items such as brake systems, cargo securement, coupling devices, driveline/driveshaft components, driver's seat, exhaust systems, frames fuel systems, lighting devices, steering mechanisms, suspensions, tires, van and open-top trailer bodies, wheels, rims and hubs, and windshield wipers.
A CVSA decal will be applied to the vehicle, if no critical vehicle inspection violations are found during a Level I or Level V Inspection, indicating that the vehicle successfully passed inspection.
The vehicle may be rendered out of service if the condition meets the North American Standard Out-of-service Criteria when critical vehicle inspection violations are identified. The vehicle then cannot be operated until the violations are corrected.
Drivers can also be placed out of service for driver credential related violations, or conditions, such as fatigue or impairment.
International Roadcheck is a CVSA program with participation by FMCSA, the Canadian Council of Motor Transport Administrators, Transport Canada and the Secretaría de Comunicaciones y Transportes (Ministry of Communications and Transportation) of Mexico.
Source: CVSA