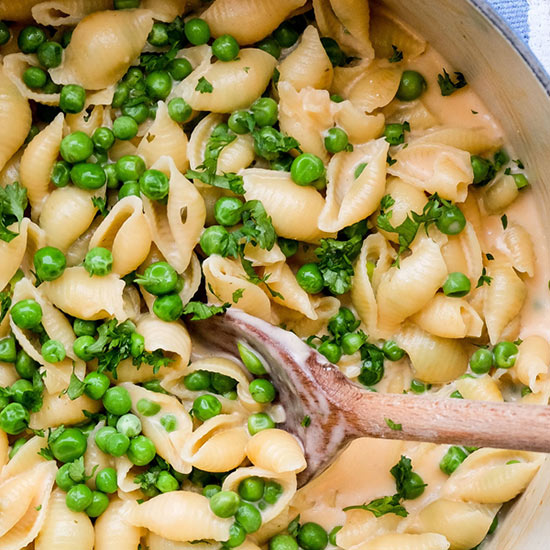 Cheese, pasta, and easy to make. Is there any better kind of meal? This Cheesy Pasta recipe will hit the spot after a busy day. Just cook it at home, heat it up in the truck and you're good to good.
INGREDIENTS 
225g (1/2 box) medium shell dry pasta
2 cups vegetable broth, warm but not boiling
1/2 cup spreadable cream cheese
3/4 cup shredded sharp cheddar cheese
4 garlic cloves, minced
2 cups frozen peas
1 cup Parmesan cheese, grated
Flaky sea salt
Freshly ground black pepper
DIRECTIONS
Place all ingredients except peas, Parmesan, salt and pepper in a large pot.
Mix gently to start melting the cream cheese.
Place the pot on the stovetop over medium-high heat and bring to a boil.
Lower the heat to medium and cook, stirring constantly for 7 minutes.
After 7 minutes, add the peas and Parmesan, stir well and cook, continuing to stir, a further 2 minutes or until the pasta is al dente.
Season to taste with salt and pepper.
TIPS
The sauce will thicken as the pasta sits, so if you prefer it more thick and creamy as opposed to saucy, let it sit for a few minutes, stirring from time to time.