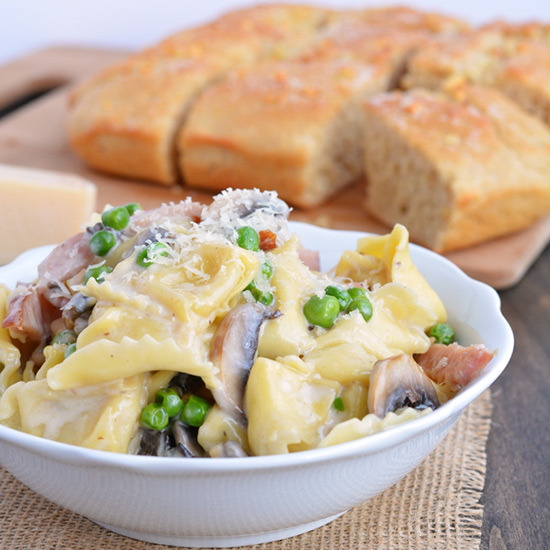 With Easter quickly coming around the corner, we thought that we would give you some ideas of what to do with all that leftover ham. Enjoy this recipe of creamy tastiness, and love those leftovers!
INGREDIENTS:
3 cups cheese tortellini
2 tablespoons butter
2 cloves garlic, crushed
1 cup mushrooms, sliced
¾ cup whipping cream
¼ teaspoon salt
1 cup ham, sliced in 2-inch ribbons
½ cup frozen peas
1/4 cup Parmigiano-Reggiano, plus more for garnish
DIRECTIONS:
Begin to boil water in a large pot for the tortellini.
Melt butter in a large skillet over medium-high heat. Add garlic and mushrooms and cook until tender.
Add whipping cream, ham, and salt, bring to a boil, reduce heat and allow mixture to simmer for about 5 minutes until thickened.
Meanwhile, cook the tortellini according to directions on package and toss in frozen the peas when 30 seconds remain. Drain pasta and peas and add them to the sauce.
Add the Parmigiano-Reggiano and cook for 1 minute, then serve.
Optional: serve with freshly grated Parmigiano-Reggiano.