Len Dubois Trucking is a family run trucking company located in Winnipeg, Manitoba that is dedicated to the health and well being of our fleet. Follow us on Facebook & Twitter for updates, info, trucking pictures, and more!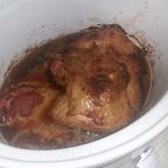 This dinner recipe is so easy even the worst cook can make it. There will be left over too! Mmmm, turkey sandwiches.
INGREDIENTS
1 – 6 pound bone in turkey breast
1 – 1 ounce pack of onion soup mix
Feel free to add more spices if you wish, but the onion soup mix alone will make a delicious meal.
Directions
Rinse the turkey breast and pat dry.
Cut off any excess skin, but leave the skin covering the breast.
Rub onion soup mix all over outside of the turkey and under the skin.
Place in a slow cooker. Cover, and cook on High for 1 hour, then set to Low, and cook for 7 hours.