Len Dubois Trucking is proud of the drivers and staff we have recruited. To find out more about us check out our Drivers Testimonials, Drivers and Owner Operator pages. See us in action and join us on Facebook, Twitter and YouTube.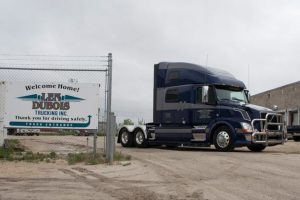 Owner Operators, do you want to partner with one of the best trucking companies in Winnipeg? Look no further.
Len Dubois Trucking offers above average industry revenue with weekly payouts so you can manage your business effectively. Our Owner Operators also save money on fuel costs with access to the the Len Dubois Trucking Fuel Plan and by using our trailers equipped with wind deflectors.  Len Dubois Trucking covers toll and scale fees and will provide you with toll cards and transponders for tolls and ferries. Best of all we are committed to providing our drivers with a healthy work/home balance. Our average trip length is 6 – 8 days, which allows you to maximize your earning potential while maintaining a happy home life.
If you think it's time to maximize your earnings apply with Len Dubois Trucking Today.