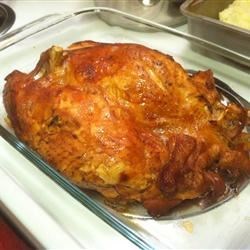 Even the worst of cooks will be able to handle this delicious slow cooker turkey breast recipe. It's easy enough to make in the truck with a crock pot and so good, no one will know that you made it in a truck with a crock pot.
INGREDIENTS
1 (6 pound) bone-in turkey breast
1 (1 ounce) envelope dry onion soup mix
DIRECTIONS
Rinse the turkey breast and pat dry.
Cut off any excess skin, but leave the skin covering the breast.
Rub onion soup mix all over outside of the turkey and under the skin.
Place in a slow cooker. Cover, and cook on High for 1 hour, then set to Low, and cook for 7 hours.