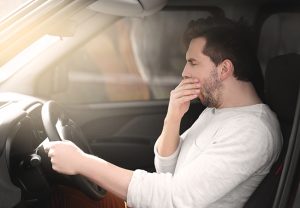 A study conducted by the Governors Highway Safety Association and funded by State Farm Insurance was conducted on the widespread dangers of Drowsy Driving. The study called, "Wake Up Call! Understanding Drowsy Driving and What States Can Do About It" has brought some key findings to light:
Drowsy driving is said to be responsible for an average of 328,000 crashes per year.
Teens and young adults are responsible for over half of drowsy driving crashes each year.
The annual estimated cost of drowsy driving crashes is $109 billion in the U.S. alone.
83.6 million sleep deprived drivers get behind the wheel every day.
A Drowsy Driver is an Unsafe Driver
Sleep is important, we all know that, but research during the Wake Up Call study confirmed that we are simply not getting enough sleep. The U.S. CDC has reported that more than one-third of the population doesn't get the 7 hours of sleep that our bodies need to for good health and well-being.
While the trucking industry has many rules and regulations in place to help combat drowsy driving the system isn't foolproof, nor does it extend to the general population of non-CDL holders who take to the roads in a groggy haze.
Lack of sleep negatively impacts everyone's performance. It slows our reaction times, impairs our judgment and reduces our situational awareness. In fact, driving drowsy has the same impact on our bodies as driving under the influence. Many of us would never take to the roads after drinking. Why, well because of the education we have received about the effects of driving while impaired.
Help Spread the Word About the Dangers of Drowsy Driving
One of the most effective ways to help combat drowsy driving will be to educate people about the dangers; about how it affects others on the roadways. The report cites some useful information to help educate motorist:
Be well rested before hitting the road. Several nights of fewer than 7 to 8 hours of sleep will slow your reaction time. It may take several nights of proper sleep to fully recover from a lack of sleep.
Avoid driving between midnight and 7 a.m. and in the mid-afternoon when we are naturally the least alert and most tired.
Do not drive along. When possible, travel with a well-rested passenger who can engage you in conversation and share the driving.
Schedule frequent breaks on long trips; stop ever two hours (100 miles).
Do not drink alcohol. Just one beer when you are sleep deprived mimics the effects of two or three.
Do not rely on caffeine to keep you awake.
The Most Effective Way to Combat Drowsy Driving
Simply don't do it. As truck drivers we know and understand that you're schedules are fast and time frames are tight, but no load is worth an accident. Everyone needs to know their limits and make a commitment to safety. Just as you wouldn't consider driving while intoxicated, you shouldn't be driving while drowsy.
Get the full report here, Wake Up Call!