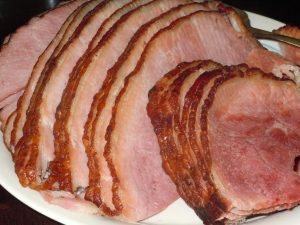 Enjoy this awesome holiday favorite where ever you are! All you need is a slow cooker and a few bungee cords . . . you know, to keep the lid on while you drive.
INGREDIENTS
7-8 pound spiral-cut ham (bone-in or boneless)
1 cup dark brown sugar
1/2 cup pure maple syrup
2 cups pineapple juice
DIRECTIONS
Place the ham into the slow cooker, flat-side down.
Rub brown sugar on all sides. Pour on maple syrup and pineapple juice.
Cover and cook on low for 4-5 hours. An hour before serving, baste ham with the collected juices from the bottom of the slow cooker.