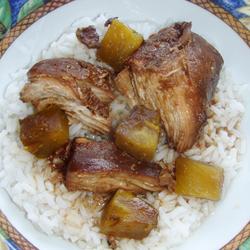 Eating healthy while over the road doesn't have to be boring. If you're looking for a healthy alternative to truck stop food try out this Honey Garlic Chicken recipe. It's easy to make ahead of time so that you can enjoy a quick, healthy dinner on the road. Serve with rice and your favorite vegetable on the side.
INGREDIENTS
1 tablespoon vegetable oil
10 boneless, skinless chicken thighs
3/4 cup honey
3/4 cup lite soy sauce
3 tablespoons ketchup
2 cloves garlic, crushed
1 tablespoon minced fresh ginger root
1 (20 ounce) can pineapple tidbits, drained with juice reserved
2 tablespoons cornstarch
1/4 cup water
DIRECTIONS
Heat oil in a skillet over medium heat, and cook chicken thighs until evenly browned on all sides. Place thighs in a slow cooker.
In a bowl, mix honey, soy sauce, ketchup, garlic, ginger, and reserved pineapple juice. Pour into the slow cooker.
Cover, and cook 4 hours on High. Stir in pineapple tidbits just before serving.
Mix the cornstarch and water in a small bowl. Remove thighs from slow cooker. Blend the cornstarch mixture into remaining sauce in the slow cooker to thicken. Serve sauce over the chicken.
NUTRITIONAL INFORMATION
Makes 10 servings
Calories 235kcal Carbohydrates 34.4g Cholesterol 42mg Fat 6g Fiber 0.7g Protein 13g