Partner with one of the best trucking companies in Winnipeg, Manitoba. Len Dubois Trucking is currently seeking Owner Operators to join our growing team of professional drivers.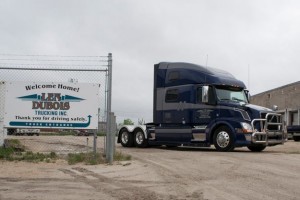 Maximize your earnings with Len Dubois Trucking. Our Owner Operators earn above industry averages with the option to choose between a percentage or per mile contract and an average of 10, 000 plus miles per month. Our commitment to exceptional customer service has allowed us to develop relationships with many local companies. This has ensured the continued growth of outbound freight and allows us to keep our fleet of drivers moving. The development of regular lanes gives us the ability to keep you moving with little to no downtime between deliveries and reloads.
We work with our Owner Operators to develop a run schedule that not only keeps you earning, but takes into account the importance of home time. Len Dubois Trucking is committed to providing our drivers with a healthy work/home balance. Many members of our office staff and management team have been over the road truckers or come from trucking families so we know and understand the demands of your career and the importance of your down time.
The available miles for Len Dubois Trucking Owner Operators combined with access to our Fuel Plan, use of our trailers (equipped with wind deflectors), paid tolls and scales, and a deductible buy down help you grow your business and maximize your earnings.
If you think it's time to put your truck to work for you Join Our Team Today!