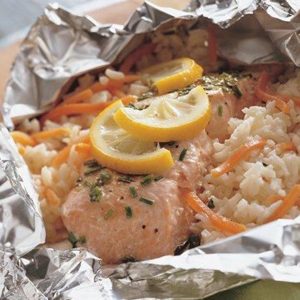 Now that we have some nicer weather, a lot of us have been firing up the BBQs. Taking a small camping grill along with you on the road means you can be eating like a king wherever you are. While most drivers probably have the grilled steak down to perfection, there are so many other things you can cook on the BBQ. This Lemon Salmon recipe takes about 20 minutes to prep and cook and will taste amazing.
INGREDIENTS
1/4 cup uncooked instant rice
1/4 cup chicken broth
1/2 cup carrots, cut
1 (4 to 6 ounces) salmon fillet
1/4 teaspoon lemon pepper seasoning salt
fresh lemon slices to cover salmon
DIRECTIONS
Spray sheet of heavy-duty aluminum foil with cooking spray
Mix rice and broth in medium bowl. Let stand about 5 minutes or until most of the broth is absorbed. Stir in carrots. Add additional vegetables (cauliflower, broccoli, Brussel sprouts or green beans work well) if desired.
Place salmon fillet on center of foil piece. Sprinkle with lemon pepper seasoning salt; top with chives. Arrange lemon slices over salmon.
Spoon rice mixture around each fillet. Fold foil over salmon and rice so edges meet. Seal edges, making tight 1/2-inch fold; fold again. Allow space on sides for circulation and expansion.
Grill packets on low heat 11 to 14 minutes or until salmon flakes easily with a fork.