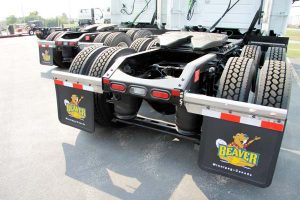 CVSA's 29th annual International Roadcheck will take place June 7-9, 2016. Over a 72-hour period approximately 10,000 CVSA-certified local, state, provincial, territorial and federal inspectors in jurisdictions across North America perform large truck and bus safety inspections.During the annual three-day event, CVSA-certified inspectors conduct compliance, enforcement and educational initiatives targeted at various elements of motor carrier, vehicle and driver safety.
Each year, International Roadcheck places special emphasis on a category of violations. The special emphasis for 2016 International Roadcheck is tire safety. While checking a vehicle's tires is always part of roadside inspections, CVSA is highlighting tire safety as a reminder to drivers and carriers.
What DOT Inspectors are Checking and What You Should be Checking as Part of the Pre-trip
Proper inflation, cuts, bulges, re-grooved tires on steering axle, tread wear and, major tread groove depth.
Inspect sidewalls for defects, improper repairs, exposed fabric or cord, contact with any part of the vehicle and tire markings excluding it from use on a steering axle.
Inspect wheels and rims for cracks, unseated locking rings and broken or missing lugs, studs or clamps.
Check for rims that are cracked or bent, have loose or damaged lug nuts and elongated stud holes, have cracks across spokes or in the web area and evidence of slippage in the clamp areas.
Check the hubs for lubricant leaks, missing caps or plugs, misalignment and, positioning and damaged, worn or missing parts.
Preventative Tire Maintenance
Tires can be a costly consumable if you don't take care of them. Regular checks and proper maintenance will help you keep your tires longer, prevent blowouts and even increase your fuel economy.
Tires that are under-inflated will run hotter, increasing the risk of a blowout, which is a potentially very dangerous situation for you and the motorists around you. On the flip side of the coin, tires that are overinflated or unbalanced will wear faster causing you to have to replace them more frequently.
Ensuring that the tires are maintained as they should be will help prevent a blowout or a fine and help with fuel economy. If you have any questions about tire maintenance you should speak with your maintenance department.