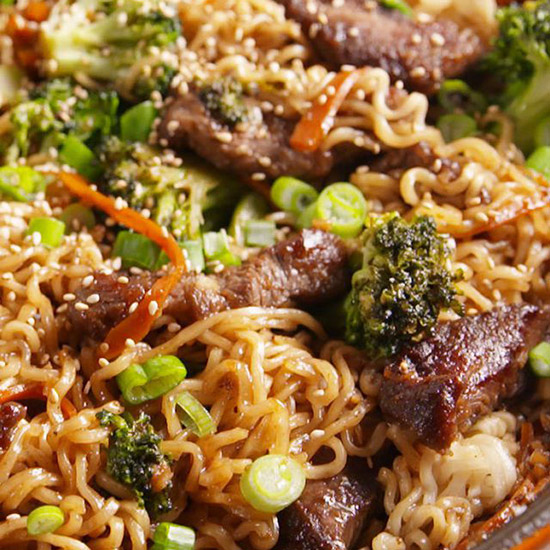 Cooking in the truck doesn't have to be difficult, especially if you do the bigger jobs at home. Noodles don't always freeze well, but you can make a great stir fry at home, freeze it to take with you in the truck, and then cook up some ramen noodles to complete the dish.
INGREDIENTS
4 packages instant ramen, (Save these to cook in the truck)
2 tbsp. vegetable oil
1 lb. sirloin steak, sliced against the grain
2 tbsp. cornstarch
1 tbsp. sesame oil
3 garlic cloves, minced
1 tsp. minced ginger
1/2 c. soy sauce
1/4 c. lightly packed brown sugar
1 c. chicken (or beef) broth
pinch red pepper flakes
1 large head broccoli, cut into florets
1 carrot, peeled and cut into matchsticks
3 green onions, thinly sliced
DIRECTIONS
In a large skillet over medium-high heat, heat oil. Toss beef with cornstarch. Add to skillet and cook until seared about 2 minutes per side. Transfer to a plate.
Reduce heat to medium-low. Add sesame oil to skillet and stir in garlic and ginger. Cook until fragrant, 1 minute then add soy sauce, brown sugar, and broth. Bring mixture to a boil, reduce heat and simmer until the sauce is thickened, 3 to 5 minutes.
Add broccoli and carrots then cover the skillet with a tight-fitting lid and cook until the vegetables are tender about 5 minutes.
Return beef to skillet and stir until completely coated in sauce.
Cool, package in freezer bags and freeze to take with you in the truck.
Cook ramen noodles according to package instructions. Drain and set aside. Warm-up your stir fry and mix it all together for a quick simple dinner on the road.