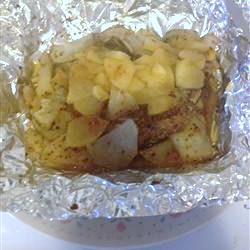 Eating healthy meals in the truck isn't as difficult as some may think. Check out this simple to make meal that can be made ahead of time and taken with you, or cooked in the truck with your lunchbox stove.
INGREDIENTS
1 (1 1/4 inch thick) pork chops
1 large sweet potatoes
1 slice onion
1 apples – peeled, cored and sliced
DIRECTIONS
Lay out a piece of aluminum foil large enough to hold the ingredients. Place the pork chop on the foil
place the sweet potato, onion and apple over the chops. Fold up and seal package.
Bake at 350 degrees F for 45 minutes, or until the potato is soft when pricked with a fork and the pork is fully cooked (160 degrees F).
Note: If you'll be cooking this meal in a lunchbox stove adjust the cook time to 1 hour as lunchbox stoves generally have a max temperature of 300 degrees. To be sure the pork is fully cooked check it with a meat thermometer.