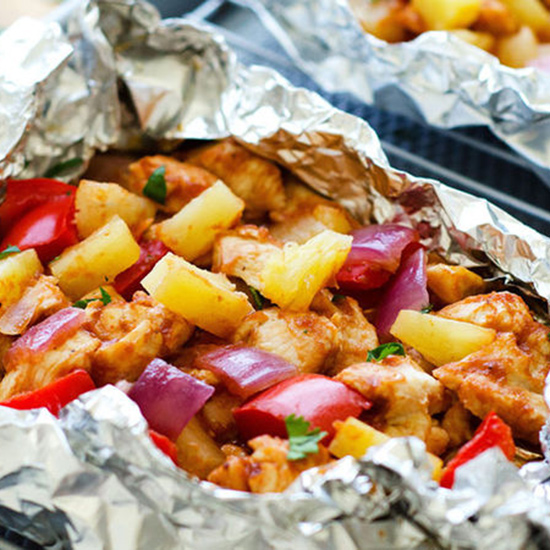 This easy to make, no mess pineapple chicken foil pack recipe is perfect for busy truckers. Simply toss the ingredients into some tin foil and then cook it on your portable grill or lunch box stove.
INGREDIENTS
3 Tablespoons pineapple preserves
1 tablespoon packed brown sugar
1 teaspoon soy sauce
1/8 teaspoon crushed red pepper
2 boneless skinless chicken breasts, cut into 2-inch cubes
1/2 medium red bell pepper, cut into 1 1/2-inch cubes
1/2 medium green bell pepper, cut into 1 1/2-inch cubes
1/2 cup pineapple chunks
1/8 teaspoon salt
DIRECTIONS
Heat gas or charcoal grill. In a small bowl, stir together pineapple preserves, brown sugar, soy sauce and crushed red pepper.
Cut 4 (24×12-inch) sheets of heavy-duty foil. Divide chicken, bell peppers, pineapple chunks and pineapple preserves mixture among foil sheets. Sprinkle with salt.
Bring up 2 sides of foil so edges meet. Seal edges, making tight 1/2-inch fold; fold again, allowing space for heat circulation and expansion. Fold other sides to seal.
Place packets on grill over medium heat. Cover grill; cook 6 minutes. Using tongs, carefully turn packets over, taking care not to puncture foil. Cook 10 to 12 minutes longer or until chicken is no longer pink in center and vegetables are crisp-tender.