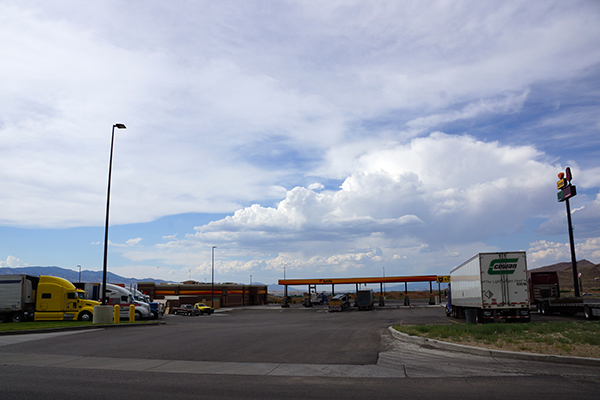 We have few regular stops in 2 Texas border cities with Mexico – Laredo and the Pharr/McAllan area. On occasion, we've heard from a few drivers who don't like parking overnight in or near border towns if it can be avoided. It's not universal as lots of drivers don't have a problem parking there overnight – there are several large truck stops in each of those towns. But some drivers prefer to stop short and stay overnight north of the US Customs checkpoints or may not have the hours to quite make it into town. Finding parking isn't the easiest thing as there aren't many places to stop short but here are a few places.
Where to Stay
When you're heading to Laredo on I35 the Customs northbound checkpoint is at MM29 just south of Encinal, TX. There is a Love's truck stop in Encinal at Exit 39. There's also parking north of Encinal in Cotulla, TX with four truck stops at exits 67 and 69. There's also a parking area on the freeway just south of Cotulla. If you're planning to go straight into Laredo there's plenty of truck stops. Just keep in mind that Laredo is a busy crossing and the parking fills up early.
When you're heading to Pharr/McAllan on US 285 there's not much for parking outside of the area. There's several large truck stops in town and parking fills up fast as it's another busy border crossing. If you want or need to stop short of the area you're best bet is the small truck stop in Falfurrias, TX at the TX 285 junction. It's a small truck stop but there's usually parking available.
Check out these articles
Risks of Trucking Near Mexico – https://lenduboistrucking.com/blog/risks-trucking-mexico-winnipeg/
3 Great Trucker Mobile Apps That Are Not Truck Stop or Fuel Apps – https://lenduboistrucking.com/blog/3-great-trucker-mobile-apps-that-are-not-truck-stop-or-fuel-apps/
Need Help Finding Truck Parking? – https://lenduboistrucking.com/blog/need-help-finding-truck-parking/