Len Dubois Trucking, in Winnipeg Manitoba, truly appreciates its team of professional drivers and staff. If you're looking for a position in the trucking industry we'd love to hear from you. Join the Len Dubois Trucking team today.

It has been a busy week here at Len Dubois Trucking as we celebrated National Trucking Week.  Here's a quick recap of what's happened.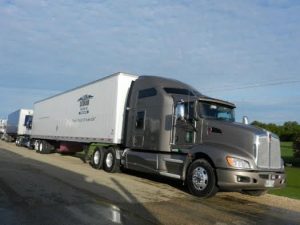 On Saturday September 6th we participated in the World's Largest Truck Convoy. Two of our drivers, Fred and Ryan, were part of the 192 truck convoy, up from 170 trucks at last years event, who hit the Perimeter Hwy to raise money and awareness for Manitoba Special Olympics. The convoy raised over $59, 000 to help support the athletes.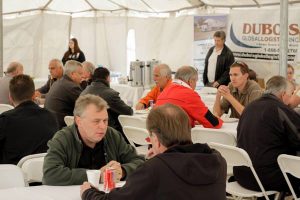 On Wednesday Len Dubois Trucking hosted an Open House event at the yard. Clients, office staff and drivers met and mingled and were treated to some award winning BBQ provided by our very own Rob Turner and his BIGG SMOAK BBQ. Congratulations to Rick from Warehouse Supply Inc who won the mini iPad draw. Thanks again to everyone who made it out for the event.

Len Dubois Trucking was featured in the Winnipeg Free Press in their special publication for National Trucking Week. Here is the PDF version of the special insert that was in the September 10th edition. The article Len Dubois Trucking connects through social media is located on page 12.

Many thanks were discussed this week both in person and through the blog. If you missed any of our posts here they are: Thank You to the Fleet from Jason and Janet, Behind Every Good Trucker is a Family who Loves and Supports Them, and It's not just about the Drivers: Trucking is a Team Effort. One message is clear in all of our posts, Len Dubois Trucking is a team of professionals whose hard work, dedication and sacrifices are truly appreciated. Thank  you once again for making this one of our best years yet. Keep up the good work.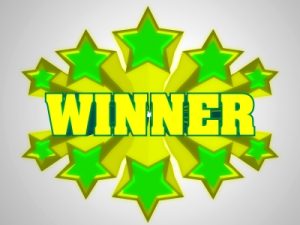 And the Winners Are . . . we had some prize draws this week and announced the Top 5 Driver/Owner Operator Miles. Check the link to see if you're a winner and stop by John's office to pick up your prizes. Also, Len Dubois Trucking has a gift for every driver, so if you haven't received yours yet, stop on by and pick it up.