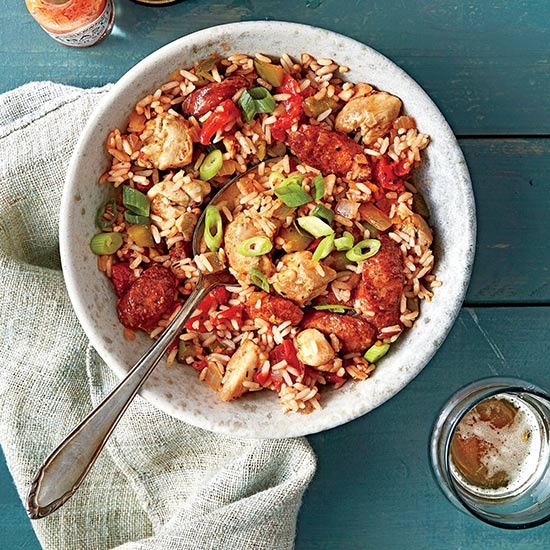 Are you craving for Jambalaya? Or, maybe just want to try something new? Try out this mouthwatering Jambalaya recipe! It's perfect to cook up at home, freeze it, and reheat on the road.
INGREDIENTS:
1 tablespoon canola oil
2 pounds boneless, skinless chicken thighs, cut into 1 1/2-inch cubes
1 pound smoked sausage (such as Conecuh sausage), cut into 1-inch pieces
1 large white onion, chopped (about 2 cups)
1 large green bell pepper, chopped (about 1 1/2 cups)
1 cup chopped celery (about 1 stalk)
3 garlic cloves, minced
2 bay leaves
1 tablespoon Creole seasoning
1 teaspoon dried thyme
1 teaspoon dried oregano
2 cups uncooked converted rice
3 cups chicken broth
2 (14.5 oz.) cans diced fire-roasted tomatoes
Sliced scallions (optional)
DIRECTIONS:
Heat oil in a Dutch oven over medium-high. Add chicken and sausage, and cook, stirring constantly, until browned on all sides, 8 to 10 minutes. Remove with a slotted spoon to paper towels; blot with paper towels.
Add onion, bell pepper, celery, garlic, bay leaves, Creole seasoning, thyme, and oregano to hot drippings; cook over medium-high until vegetables are tender, 5 to 7 minutes. Stir in rice, and cook until fragrant, about 3 minutes. Stir in chicken broth, tomatoes, chicken, and sausage. Bring to a boil over high. Cover, reduce heat to medium, and simmer, stirring occasionally, until rice is tender, about 20 minutes. Garnish with sliced scallions, if desired.