Safe Work Certified
Earlier this year we became Safe Work Certified through Safe Work Manitoba and RPM Trucking Industry Safety. This made us the 25th trucking company in Manitoba to achieve this certification. Our team worked hard to go through the program and make the changes necessary to improve safety at our facility and achieve the certification.
Just as truck driving is more of a lifestyle than a job; safety is more of a culture than just a set of policies or slogans. It takes the entire team with a dedication to a safe work environment to make our workplace safe for everyone. When we come to work we should expect to go home in the same condition as when we arrived.
Why We Participate In RPM
We are dedicated to the health and safety of our team. Safety is an ongoing process and we are always finding ways to improve safety throughout our operations.
We often focus on over-the-road safety and compliance. Driving truck has many hazards that drivers have to deal with every day, and our trucks do millions of miles each year – which means over-the-road safety is essential to our operations. But trucking is a team activity. Each of our drivers has a team of professionals supporting them back at our Winnipeg terminal.
As with any trucking company, our terminal is a busy place with a lot of moving parts. Big, heavy, and hazardous moving parts. It should be a place that is safe for all staff and visitors. We obtained a lot of education through the RPM safety program which enabled us to improve safety practices throughout all of our operations, add more accountability, and setup processes for continuous improvement.
Getting Certified
It took a financial investment and over a year and a half to achieve the certification and we feel strongly it has improved the safety of our staff and has improved our operations.
Obtaining certification is only the first step. It's a big step but the true benefit of the RPM safety certification is the continuing education and audit processes.
For example, we now have a process to look at "close calls" that happen on-site. We can learn from what happens day-to-day and make safety improvements to reduce the risk of accidents happening.
As you can imagine maintenance shops host a variety of potential hazards. We made many improvements to our shop operations. For example, we would need to install a harness system in our bays in-order to do roof repairs on our trailers. That's something that would need to be engineered into the building and it's not a practical solution for our shop setup. Our shop policies now call for that work to go to a trailer repair shop. The RPM program had us evaluate which repairs we can do safely and which ones should be sent out. It also made us review all shop operations and take steps to improve safety.
Those are just a couple of brief examples of the benefits and safety improvements we made through the RPM Program. Through the RPM program, we improved our monthly safety reports and tracking of safety issues. The program not only educates but holds certified companies accountable through annual audits and requires re-certification every three years.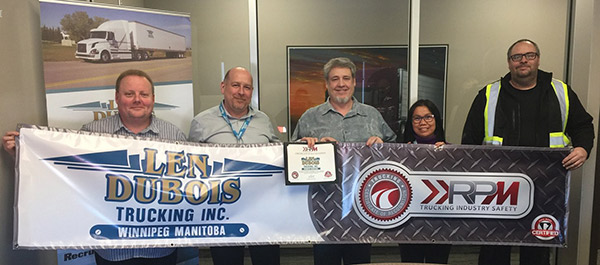 What is Safe Work Manitoba
Taken from the Safe Work Manitoba website – "SAFE Work Manitoba — a division of the WCB is dedicated to the prevention of workplace injury and illness. Working with our partners in the safety community, we provide prevention education, safety programming, consulting and strategic direction to create a genuine culture of safety for all Manitobans."
Safe Work Manitoba works with certifying partners in various industries. RPM Trucking Industry Safety is the trucking industry's certifying program created by the Manitoba Trucking Association which began in 2015 to provide workplace health and safety services to the trucking industry in Manitoba.
Dedication to Trucking Safety
It's one thing to pay lip service to safety but our team has taken steps to improve our knowledge and improve the way we work to make Len Dubois Trucking a safe workplace. The trucking industry has taken serious actions to improve safety and change the culture of trucking. We are proud of our safety record and will continue to work hard to improve our health and safety practices for the benefit of our team.
Earn a Good Living with Len Dubois
We are able to ensure good miles and home time with regular Winnipeg based clients, regular lanes and long-term clients. Our experienced team of dispatchers work hard to ensure that your time off and resets are taken at home, not on the road. For drivers, this equals above-average pay and the ability to enjoy a life outside of the truck.
Ask John About the $1000 Sign-On Bonus for Company Drivers and $2000 Sign-On Bonus for Owner Operator's
Must have 2 years OTR experience
Must be able to cross the U.S border
80% U.S miles
Must have a positive attitude about safety & compliance
Let's have a conversation and see if we're a good fit for you! Call John, Safety Manager/Driver Recruiter 1-888-590-2760 Ext 309 today.
If you'd prefer, John can contact you. Fill out the form below