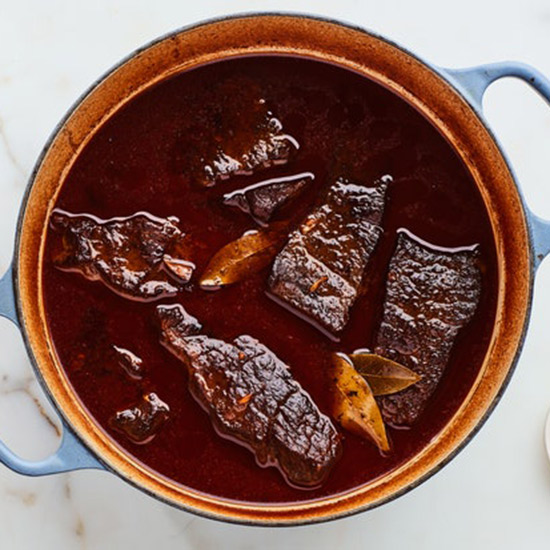 Start the New Year off right with this delicious braised beef recipe!
INGREDIENTS
5 lb. boneless beef short ribs or Denver steaks
1 Tbsp. plus 2 tsp. kosher salt
1 Tbsp. freshly ground black pepper
1 Tbsp. (or more) canola or vegetable oil
5 garlic cloves, crushed
2 Tbsp. tomato paste
1/2 cup red or white wine vinegar
1 1/2 cups (or more) beef or chicken stock
4 dried bay leaves
DIRECTIONS
Season beef on all sides with salt and pepper. Let sit at room temperature for at least 45 minutes or up to 1 hour.
Preheat oven to 275°F. Heat 1 Tbsp. oil in a large Dutch oven over medium-high. Working in batches and adding more oil if needed, sear meat until browned on all sides, 4–5 minutes per side. Transfer to a plate.
Add garlic and tomato paste to hot pot and stir to coat. Cook over medium-high heat, stirring, until fragrant, 1–2 minutes. Add vinegar and scrape up browned bits from bottom of pot. Stir in stock and bay leaves, then nestle short ribs back into pot. The liquid should just cover the meat; if it doesn't, add more stock or water until it does. Transfer to oven and braise until meat falls apart easily when shredded with a fork, 3 1/2–4 hours. Let cool in liquid.
Slow Cooker Option: To cook in a slow cooker, transfer to a slow cooker instead of oven and cook on high for 4 hours or on low for 8 hours.
TIP
Beef can be cooked up to 5 days ahead. Store in braising liquid (to keep it from drying out) in an airtight container and chill, or freeze up to 2 months. Before reheating, break off and discard the fat cap that forms on top.