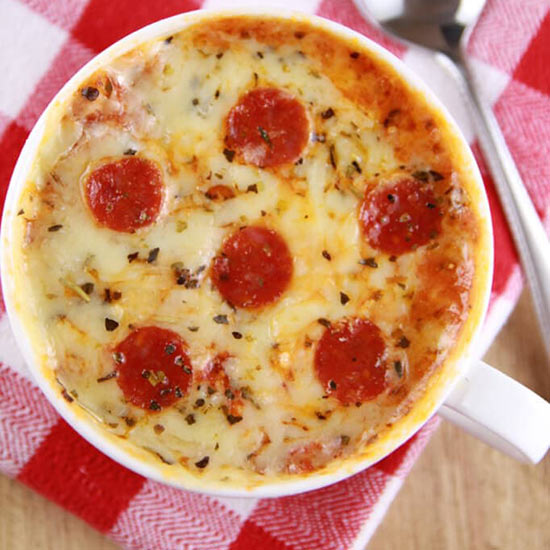 There's no hurry up and wait for this great Mug Pizza recipe. It only takes 5 minutes to put together and even though it is probably the most untraditional pizza you can think of, you'll be surprised at how great it tastes!
INGREDIENTS:
4 tablespoons all-purpose flour
⅛ teaspoon baking powder
1/16 teaspoon baking soda
⅛ teaspoon salt
3 tablespoons milk
1 tablespoon olive oil
1 tablespoon marinara sauce
1 generous tablespoon shredded mozzarella cheese
5 mini pepperoni
½ teaspoon dried Italian herbs (basil or oregano will work)
DIRECTIONS:
Mix the flour, baking powder, baking soda and salt together in a microwavable mug.
Add the milk and oil and mix together. There might be some lumps but that is ok.
Spoon on the marinara sauce and spread it on the surface of the batter.
Sprinkle with the cheese, pepperoni and dried herbs.
Microwave for 1 minute, or until it rises up and the topping are bubbling.
NOTES:
You can prep the dry ingredients at home by mixing them together and storing them in sandwich bags.
Cooking time will vary depending on your microwave. If it isn't completely cooked after the first minute, continue cooking in 15 to 20-second intervals until the toppings are bubbling.
Keep a close eye on this while it is cooking to make sure your toppings don't bubble over the cup.
Check out more great recipes for truck drivers from the team at Len Dubois Trucking!
Source: Bigger Bolder Baking