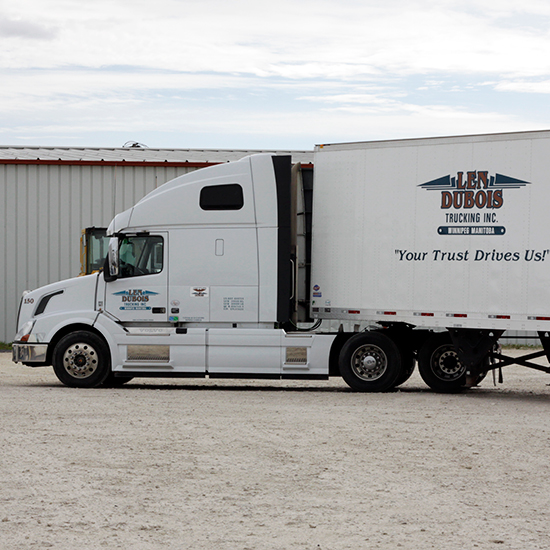 Guest Post by Cindy Derricks, wife of a company driver
My husband just celebrated his 18th Anniversary with Len Dubois Trucking.
The reminder of this date got us talking and reminiscing about how we entered the trucking industry and how we have built our lives around it. If you're a trucking family, you know exactly what I'm saying.
I wasn't keen on the idea of my husband entering the trucking industry. But this was his choice and how we were going to provide for our family. Trucking was going to change our lives, and man did it ever.
You'll have to remember that a lot has changed over the past 18 years. Getting into the industry and starting your career is a little different these days. Fresh out of driving school, my husband had already made arrangements to drive team. Actually, it was at the constant persistence of an acquaintance that my husband even started considering a career in trucking. They took to the roads as a team hauling for the first company that made an offer.
The recruiter had made grand promises of "when I make money, you'll make money" and "we'll get you home every two weeks" and "if you need time off, just book it." There were more, but I'm sure you've heard them all before.
As we reminisced about these promises, we couldn't help but laugh at about how far from the truth they had been, and at how naive we had been to believe them. You'll have to remember that this was 2001. We didn't have the resources back then that we have today, i.e. Google, company websites, social media. We had no way to verify to look into a company, and so we took the recruiter at his word and entered the world of trucking.
What a mess that was. The truck my husband got stuck with was old and not well maintained. We laugh now how it was held together with glue and duct tape. It wasn't really, but the truck was in bad shape. The promise of home-time was a complete joke, with my husband spending four to six weeks out on the road only to be home for a few days before being sent out again. Oh, and booking time in, well we tried that once too, but that didn't work out either.
After booking time in to celebrate our daughter's second birthday, my husband received a call. He was forced dispatched on a run to Tennessee. After crossing customs, my husband was pulled into a DOT spot inspection check-point. I'm not at liberty to explain all the events that occurred next, but his trip ended when I drove down to Emerson to collect him, his partner, and all of their belongings.
This was our introduction to the trucking industry. It's an important part of the story.
Yes, a lot of things have changed since 2001, trucking companies don't operate the same way, but every so often, you hear the horror story. For me, at home, going through this was a nightmare. I was constantly worried about my husband's safety. I had seen him a grand total of 10 days in five months. The money wasn't nearly as good as it should have been because dispatch couldn't keep him moving and he had a lot of downtime on the road.
Enter Len Dubois Trucking
By default, my husband was able to be home to celebrate our daughter's birthday, but then it was time to start looking for another job. We knew our options were going to be limited because he only had 5 months experience, but we were much more careful this time. He went on a few interviews and asked the recruiters a lot of questions. Len Dubois Trucking was at the top of our list.
My husband had interviewed with Jason Dubois. What had caught our attention was Jason's understanding of the industry. He was young, only a few years older than we were, and until recently, he had been a driver working for his dad's company. When his father passed suddenly, he was forced into the internal operations of the company to run things with his mother. At the time we met him, he was working in dispatch with Gerry and recruiting drivers.
During the interview, my husband knew this was the company he wanted to work with. Jason made a lot of promises, too, but he had been humble and honest in what he was saying. He explained his position and the company culture he was building; a culture that put the drivers first. While we had a good feeling, we were a bit leery, after all, we had been burnt pretty bad by the first recruiter.
My husband's first run with Len Dubois Trucking was in June of 2001. It was a short test trip to Arborg, MB and back. They put him in truck 20 and joked that this unit had been cursed. A number of drivers had taken their test trip in this unit and failed to be hired. We aren't superstitious people by nature, but when my husband got the truck stuck in the wet, muddy roads of Arborg, we began to wonder; we even began to believe it when the bumper broke as the truck was towed out. All the way back to Winnipeg, we believed. There was no way my husband was going to get on with this company.
Back at the yard, and feeling a little deflated, my husband explained what had happened and offered to pay for the damages. Jason responded by telling us that wasn't necessary and started making preparations to have the truck repaired before my husband's next run. He was leaving for California in a few days. The curse of unit 20 had been broken.
Len Dubois Trucking, Our Extended Family
For the past 18 years, the Len Dubois crew has been a big part of our lives in the sense that we have created a partnership with them. Trucking is a demanding and fast-paced lifestyle. Trucking families don't have the same luxuries of family time without planning; and because Len Dubois Trucking has always done their best to put the drivers first, we have been afforded a wonderful balance between work and life.
Gone are the days of me wondering when I will ever see my husband again because Len Dubois has stayed true to the promise to have him home every 7 to 10 days. In our 18 years with them, I can count on one hand the number of times his trip was delayed or a turn and burn was needed. Even then, he's been home within three weeks.
Other than road conditions and the ridiculous weather patterns he has to face while travelling from one end of the continent to the other, I don't have to worry about his safety. Len Dubois provides late model equipment, and the shop team does an amazing job of staying on top of repairs and regular maintenance. This is not to say he has never broken down on the road, because he has. But I know when he does, the shop team will get him into a repair shop without question and get him back on the road as quickly as possible. Beyond the maintenance team is John, the Safety and Compliance Manager, who is also the driver recruiter. He, like the rest of the team, helps build the family-oriented, driver culture that drives Len Dubois Trucking. He encourages and promotes safety at every turn, not just for compliance reasons, but to keep the fleet safe. When adverse weather conditions strike, he tells drivers to shut down, to remain safe; and he is never more than a phone call away for the drivers who run into issues on the road.
Booking time in has never been questioned by the dispatch team. It doesn't matter what the occasion is, from important family celebrations to booking dental appointments, all we have to do is fill out the request form and submit it. My husband has not missed anything we have planned for while working with Len Dubois. In 2006 and 2009, we welcomed our boys into the world. The birth of children can't be planned, but the Len Dubois team ensured that my husband stayed close to home and wasn't more than 16 hours away for the weeks leading up to the expected delivery dates. With their commitment to putting the driver first, my husband was able to be home for the birth of his boys.
Financially, my husband has earned a great living working with Len Dubois. They are constantly examining the pay scale, making adjustments and adding to the driver's bottom line. In this industry, if it isn't rolling down the highway, it isn't making money. Drivers have to move the miles to earn; it's the nature of the job. Len Dubois has always made an effort to work smarter, not harder; and they have always ensured that their drivers are at the top of the industry pay scale.
So, to Jason and the entire team, I say thank you for being a dedicated and honest extension to our family. Working with all of you has made this lifestyle easier on me, my children and most certainly my husband.
---
Driver Better Live Better
Contact John today to see if Len Dubois Trucking is right for you!