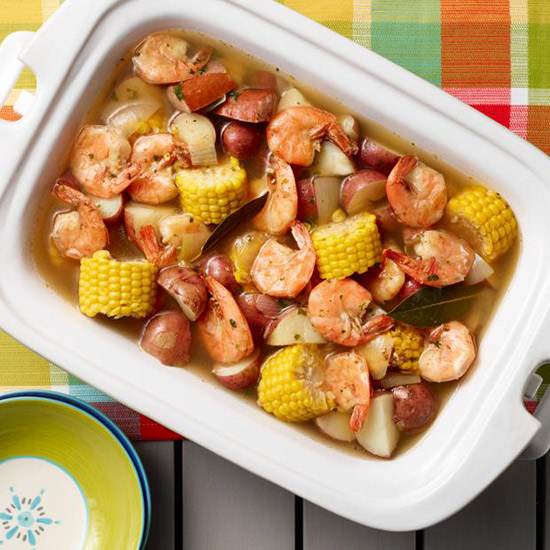 After a long day, wouldn't it be great for a warm homecooked meal waiting for you? With this recipe, you can have just that! With only 15 minutes of prep time and a 5 hour cook time (all in your slow-cooker), you can enjoy the wonderful taste of a fresh meal.
INGREDIENTS 
1/4 cup seafood seasoning, such as Old Bay
2 large ears of yellow corn, husked and cut into 1-inch pieces
1 1/2 pounds large, deveined, shell-on shrimp
8 ounces kielbasa, halved lengthwise and cut into 2-inch pieces
3 cloves garlic, lightly smashed
2 bay leaves
2 medium yellow onions, cut into eighths
1/2 cup chopped fresh parsley
1/4 cup fresh lemon juice
Crusty bread, for serving
3 pounds very small red bliss potatoes (each about 1-inch in diameter)
DIRECTIONS 
Put the potatoes, garlic, bay leaves, onions, 2 tablespoons of the seafood seasoning and 4 cups water in the insert of a 6-quart slow cooker. Stir to combine. Cover with a lid and cook on low heat for 4 hours.
Remove the lid and switch to high heat. Gently stir in the corn, shrimp, sausage and the remaining 2 tablespoons of seafood seasoning. Cover with a lid and cook until the shrimp turn opaque and the sausage is warm through – about 30 to 45 minutes. Gently stir in the parsley and lemon juice.
Serve directly from the slow cooker or pour into a large serving bowl and serve immediately with crusty bread.